Book casts spell over readers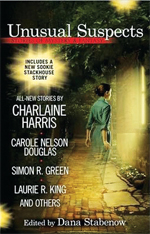 Ghosts, magicians, detectives, and sorcerers all work to solve the mysteries that surround them in "Unusual Suspects."
Released to paperback December 2010, and available at most bookstores, "Suspects" is an ACE fantasy anthology edited by Dana Stabenow with a mystery theme.
Featuring short stories by authors such as Simon R. Green, Charlaine Harris, and 10 other gifted writers, the anthology presents a broad range of well-crafted fantasy stories.
In "An Appetite for Murder," Green revisits his Nightside world with his signature dark humor and fast pace.
Charlaine Harris takes readers back to Bon Temps through the eyes of Sookie Stackhouse, the character whose books became the hit show "True Blood."
No two stories are anything alike, running the gamut from dark dystopia to post-apocalyptic, to a tale of ghosts set in the normal, modern world.
The heroes in the stories are as different as the worlds they work in.
Some are simply thrown into mysteries by chance, some are professional detectives, and some follow other careers and find the mysteries in the course of their work.
Overall, the writing in this anthology is solid and clean. Some stories, though, may give readers problems stylistically.
For instance, Michael A. Stackpole's "Looks Are Deceiving," though an entertaining read, has a convoluted storyline that can leave readers confused at times.
And "Glamour," by Michael Doogan, is a strong story but the dialogue is written to read as though the speaker had a thick peasant accent. It can take a moment to figure out what the characters are saying.
Still, the stories presented in "Unusual Suspects" make it a good read.
For anyone who's short on time but still wants a little mystery and fantasy in their reading, "Suspects" is a must have.
Rating: A