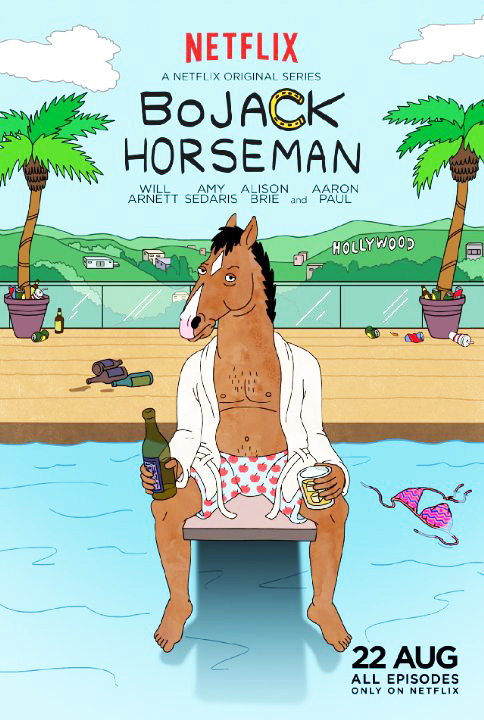 With streaming video services quickly replacing old school cable boxes, companies like Netflix and Hulu Plus are forced to do whatever it takes to keep users coming back.
While each service streams hundreds of film and television titles at lower than $10 a month, both Netflix and Hulu Plus also offer their fair share of original content.
On Aug. 22, Netflix released its answer to primetime television's "The Simpsons," "South Park" and "Family Guy" — a hilarious new animated comedy called "BoJack Horseman."
Voiced by Will Arnett — "Arrested Development" funny man and former hubby to Amy Poehler — the series follows the antics of BoJack Horseman, an anthropomorphic horse and washed up actor who's attempting to make a Hollywood comeback by writing an autobiography.
BoJack made it big in the '90s playing the father figure on the fictional family sitcom, "Horsin' Around," leaving BoJack's financial assets sitting pretty.
Like most traditional has-beens, BoJack succumbs to fame's endless temptations and finds himself in the media spotlight for all the wrong reasons.
Along the way, BoJack has help from his bum roommate Todd, his part-time girlfriend and full-time agent — and a cat, ironically enough — Princess Carolyn and a golden lab named Mr. Peantubutter, his longtime acting rival.
"Breaking Bad" actor Aaron Paul provides Todd's voice and "Mad Men" actress Alison Brie voices Diane, the woman hired to ghostwrite BoJack's book.
Audiences might also recognize actress Kristen Schaal as the voice of Sarah Lynn, BoJack's former child co-star who's now a raging Hollywood starlet similar to the likes of Lindsay Lohan.
Schaal is the voice of Louise Belcher in the animated comedy "Bob's Burgers."
One thing I notice first about a cartoon is its animation style, and I'm pleased to say BoJack's fictional world where humans and talking animals cohabitate is drawn just as wacky and colorful as it sounds.
BoJack also pokes fun at high society, material wealth and Hollywood culture altogether — reminding us that we're all just a bunch of animals.
Since it's rated TV-MA, you shouldn't watch BoJack while you're around your children or your conservative grandparents — but, with a first season full of crude humor and social commentary, "BoJack Horseman" is a witty cartoon with a lot of potential.
I hope other Netflix users agree.
Rating: B+