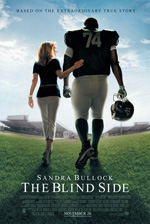 Sandra Bullock tackles her down home, Southern charm role and walks away with an Oscar for best actress in "The Blind Side," released last year and based on a true story.
Bullock plays Leigh Anne Tuohy, the interior designer who takes a homeless, dejected boy called Big Mike (Quinton Aaron) into her home.
Big Mike, real name Michael Oher, hails from the Hurt Village projects across town in Memphis, Tenn.
The story of Baltimore Ravens lineman Oher begins with a woman and her maternal instinct to love a child no matter his color, race or origins.
With the love and support of Tuohy and her family, Oher finally catches a break.
College football coaches come clamoring when Oher's natural ability to play football becomes evident in high school.
However, there is great concern that Oher won't have the means to make the grade.
Tuohy has a great desire for Michael to play for her and her husband's alma mater, Ole Miss. Her ethics are put to the test.
This movie is an inspirational story of how a little love can change a life.
If you didn't see it coming, you will be moved by the big blocker's heart-warming story.
Rating: A