Black Student Association active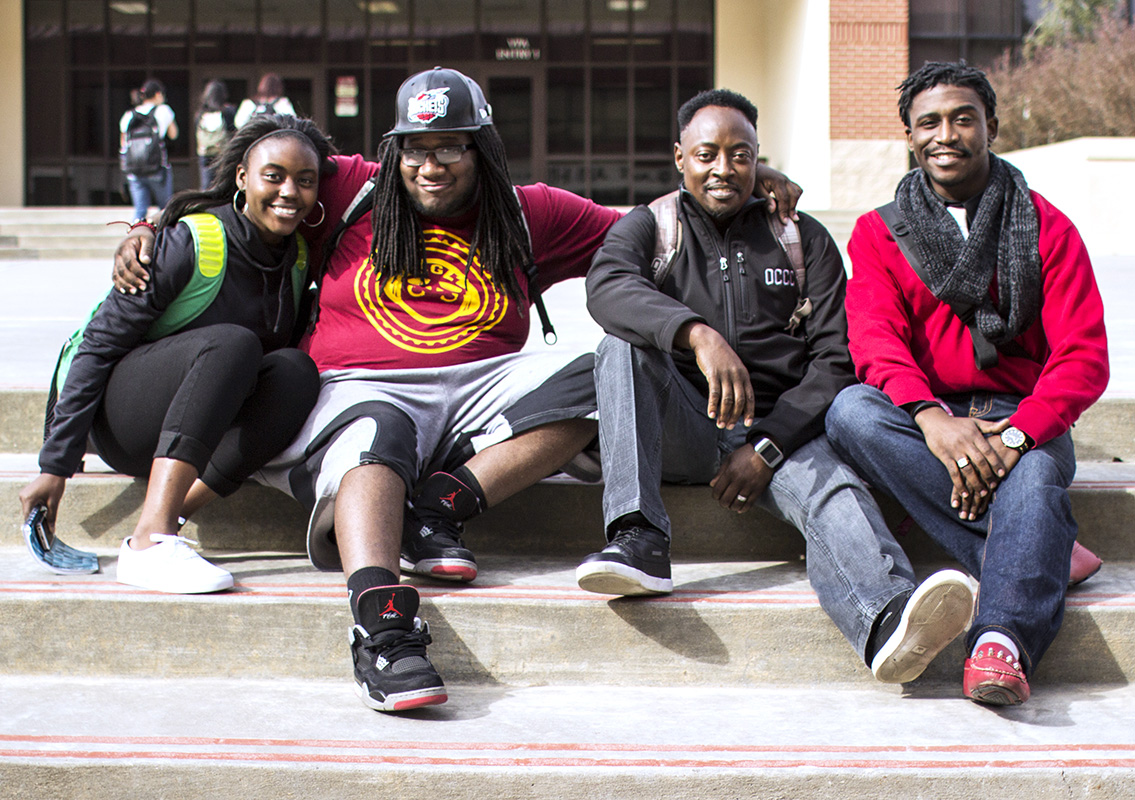 ETHAN COOPER/PIONEER

Members of the Black Student Association pose together for a group photo on Jan. 29 outside the Visual and Performing Arts Center. From left to right: Physical therapy major Cydney Washington, the club's TLC Rep; liberal arts major Sherman Johnson; photography major and Club Historian Eugene Atkinson, and pre-pharmacy major and club vice president Ali Nixon. To contact the BSA, email bsa@my.occc.edu
The Black Student Association's purpose is to provide a family environment for peers who might not have one at home, said Ali Nixon, BSA club vice president.
"We want to encourage them intellectually and in a professional manner to better conduct themselves in corporate America," Nixon said.
"Being in the BSA [during] Black History Month serves as a reminder of the privilege that we have to not only receive education but also to be in an institution of higher education … to become something of value to our community and to be able to give back."
Cydney Washington, BSA Leadership Council representative, and Nixon both said their families encourage them to achieve a higher education.
"My grandparents push and push education specifically because not everyone had it back then, especially African-Americans, so education is extremely important to me," Washington said. "To do my best is important and I don't want to take anything lightly when it comes to school."
Club Historian Eugene Atkinson said history knowledge is important and shouldn't be taken lightly.
" … To have the opportunity to be educated is a privilege and we should take advantage of it," Atkinson said.
"We as an organization, the BSA, have to continue with that and be a good representation, be the best version of ourselves that we can possibly be and just be a living example."
Atkinson said by not knowing their background and history, many young African-Americans are becoming a lost generation.
He said he believes history is not being taught enough in schools.
"There's a lot to know. If we know our history, understand our history we can prevent so many things that are happening today," he said.
"That's why a lot of these things do occur — a lack of understanding, a lack of knowing.
"It's one of the main reasons history repeats itself.
"We should be fearless and … be the best we can be and be a contribution to society rather than a hindrance."
Nixon said he wants to encourage African-Americans to learn from their environments and learn from past circumstances.
" … The social norm with our generation is not a healthy one," Nixon said. "It's destructive and painful."
Atkinson said he advises finding a mentor.
"I think the presence of the company you keep is very important as well, so you need to choose to surround yourself [with] what you want to be.
"Imagine yourself of who or what you want to be and find someone who [exemplifies] that so you can have a clear picture of what you can become."
Atkinson said the BSA is open to everyone.
For more information, contact club members at bsa@my.occc.edu.
To contact Katie Axtell, email community