'Birdman' captivates immediately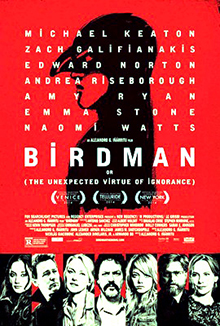 If you consider yourself to be somebody with taste or any appreciation for the arts, go see "Birdman."
The film hits hard and fast, blowing the throttle open immediately and burning the clutch to ash by the end.
Recommended to me by my least favorite roommate, I was nervous but in great need of a visit to the cinema, where I wouldn't feel guilty about not studying over a weekend.
And oh was I nervous when I discovered the movie was about a washed-up actor putting on a play.
I've wasted $7. My gut sank.
I've wasted $7 on a movie surely decrying postmodernism, and espousing theater and the triumph of the human spirit.
But it took all of two minutes to get my attention, and I didn't get it back for two hours.
The cinematography, the cast, the pacing, the dialogue, the humor, the magical realism and even the emotional journey of the lead — it was all so very on point.
Forty-five minutes into the film, a family joined our meager audience in the top row.
The parents were enjoying a conversation on their cell phones while their horde of children enjoyed running up and down the stairs, and in and out of the theater.
My request for an usher was ignored so I took it upon myself to yell "shhhhhhhhh" every time they opened their inconsiderate mouths.
The experience of "Birdman" would not be denied to me. Some time later, they left the theater.
The film was both classic and post-modern, dare I say, post post-modern, so aware it burned, so present I risked kidney failure to delay the screaming of my bladder.
Go see "Birdman."
Rating: A
To contact Grant Swalwell, email onlineeditor@occc.edu