Bill's Grill serves up tropical flavor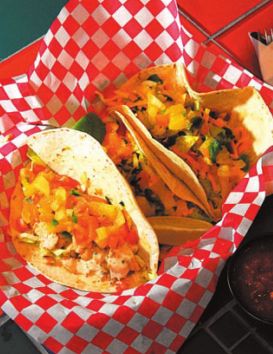 Bill's Island Grill is a Hawaiian-themed restaurant in the south Oklahoma City area, at 1013 SW 89th Street.
I went to Bill's on Monday, Jan. 9, and was pleasantly surprised by the experience.
You don't get a very high expectation from the sign by the street when you come up to it.
It's very easy to miss, even if you're looking for it: you expect a big, flashy sign, possibly in the shape of a palm tree or a giant pineapple.
This isn't the case, as the sign is small, and a little plain.
Conversely, the interior is bright and cheerful, though it looks like a flea market exploded.
A lot of funny signs are everywhere, and there is the single largest ceiling fan I've ever seen in my life. Each of the blades had to be 10 or 15 feet long and bright yellow.
The waiters and waitresses were friendly, and very fast, despite all the other people in the restaurant.
The food itself was delicious and plentiful, save for the "Island Rice," which tasted like rice pilaf to my non-professional standards. It was good, but there was not very much of it.
My party had an order of volcano nachos, and it was large enough to be a meal by itself. It was loaded down with slightly charred chicken, beans, cheese, salsa, peppers, and olives. If you want dessert though, skip on the appetizers. They are huge.
The burgers are thick and juicy, with a slight char to the outside that gives it lots of flavor. Feel free to ask what's good, because they are telling the truth.
According to my mother, who ate with us, the fish and chips were better than what they serve in England.
I would personally suggest the "Big Kahuna," but only if you like a lot of meat.
The "Big Kahuna" is a large hamburger with ham, grilled onions, American cheese, barbecue sauce, and tomatoes. My mouth is watering just writing about it. It was delicious.
Bill's also features a full bar, karaoke on Thursday, and two pool tables.
In all, the restaurant was great, but you should keep an open mind when you go in. Some of the signs may offend.
Rating: A
To contact Robert Bolton, email communitywriter@occc.edu.