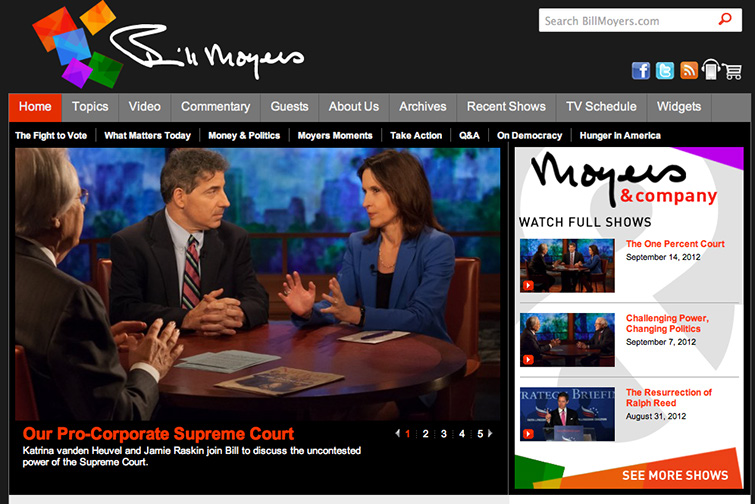 Bill Moyers made his return to television back in January 2012 with a show called Moyers & Company. Every week he interviews many of America's best, brightest, and best known free-thinkers to talk about the economic, environmental, political and social problems faced by our Republic.
Filmed in a studio at the City University of New York in Manhattan, Moyers & Company is seen by a large national audience through 350 public television stations. This happens to be one of my favorite shows on television because it always has guests that are ready to address hard issues in a conversational style that makes sense.
Moyers and his guests tackle subjects like corruption, equality, poverty, pollution, income inequality and money's influence on our political system. They also talk about the arts, history, culture and other aspects of our humanity.
Guests have included activist and former Rage Against the Machine guitarist Tom Morello, historian and author of "The People's History of the United States" Howard Zinn, folk singer Pete Seeger, Pulitzer Prize-winning journalist Chris Hedges, Jon Stewart from Comedy Central's The Daily Show, the longest-serving Independent U.S. Sen. Bernie Sanders from Vermont and many others. In fact, Moyers has had a total of 98 guests since his show hit the airwaves.
I feel inspired to help improve our society every time I watch an episode of Moyers & Company but more importantly, I feel it's possible to make a difference. It becomes obvious that I'm not alone in my desire to change things for the better. This discovery is very empowering.
New episodes of Moyers & Company are aired on OETA every Saturday night at 5 p.m. with a re-showing at 6 p.m. on Sunday.
Tune in, or visit the website at www. billmoyers.com to gain insight into the troubles we are dealing with here and now. The path to a better tomorrow begins with knowledge of today's shortcomings.
Rating: A+
To contact Chris James, email pioneerphotog@occc.edu.