Being prepared helps when finding employment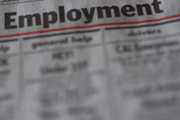 Social networking sites such as Facebook and Twitter are not so private when it comes to current or potential employers. Employers can squeeze through the privacy barriers of their employee and applicant profiles. You heard right . Those photos and posts from the weekend are not safe from the eyes of employers.
"Employers look. They really do," Debra Vaughn, Student Employment and Career Services director said.
"When I mention this, students are just like, 'What? I didn't know that.'" Vaughn said.
Diversified Studies major Mark Walkup was surprised to find this out. "I personally have never gotten in trouble over something posted online, but I would be pretty upset if I did. That's none of their business." Walkup said.
One of the main purposes of Vaughn's department is to help students make the very best impression that they can and to get their foot in the door to their career path. The department has helped over 7,000 students do just that.
By simply going online or stopping by the department, students are able to learn how to build a resume, and cover letter, develop interview skills and tips. Also students find opportunities to apply for both on-campus and off-campus jobs. The list doesn't end there, Vaughn said.
Through occc.optimalresume.com, creating a resume is easy, she said. The website contains a large selection of resume examples and formats. The department also allows students to stop by in order to get hands-on help building a resume, and provides a guidebook with all the information a student needs to apply for a job.
This includes the do's and don'ts for interviews, proper dress attire, resume and cover letter examples, and even instructions on how to tie a neck tie.
By simply creating an account and doing a simple search, students can find hundreds of job postings through collegecentral.com/occc in almost every type of field imaginable.
The website allows for students to post their resumes that are viewable to multiple employers. So, not only are students able to look for employers, but employers are able to see the resumes of the applicants.
Internships are also easier to find through the department's partnership with greatergrads.com.
It's as simple as going to the website and doing a simple search. From there, students are provided information on how to get started with internship opportunities. Career categories include art, business, graphic design, and public relations among many other opportunities. If a student is unsure of what career field they are interested in pursuing, the department offers a way to get an idea.
A program called Discover provides an easy, online quiz that helps determine the individual's interests and what career fields may fulfill those interests. To do this, a student just needs to stop by the department, located in OCCC's Main Building, and ask for the login information. It's that easy.
Whether it is by visiting the department or going online, students have many opportunities available to help them succeed. Just remember, she said, when applying for a job, keep the unimpressive Facebook or Twitter posts to a minimum.
For more information on these services, contact Debra Vaughn by email at dvaughn@occc.edu, by phone at 405-682-1611, ext. 7362 or stop by the Student Employment and Career Services Department in the Main Building.
To contact Paris Burris, email staffwriter2@occc.edu.