Being appreciative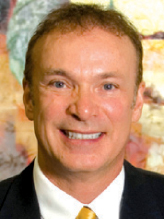 As I meet with students around the coffee shop, in the dining hall, or in the class that I am teaching, I often hear how helpful the faculty and staff are to students at OCCC.
One student, who drives a considerable distance to come to OCCC, told me that she is here because of the quality of the programs and the excellent faculty and staff. She went on to say that there are other colleges closer to her home than OCCC, but she prefers to come here.
Her comments spurred me to take this opportunity to express my appreciation to the hard-working faculty and staff at OCCC.
In the past few years, with increases in enrollment and no new financial resources from the state of Oklahoma, many faculty and staff willingly took on additional responsibilities to accommodate and serve the increased number of students at OCCC.
As a full-time faculty member, adjunct faculty member, or staff member, please know that I commend you and thank you for your efforts on behalf of the nearly 15,000 college students and over 3,000 community education students who are attending OCCC this fall.
I still remember the faculty and staff members at Southern Nazarene University and the University of Oklahoma who took time to provide advice, mentor me, tutor me, and simply help me reach my goals of completing my college education.
I have had the opportunity to thank individuals at SNU and OU for their positive impact on my life. They believed in my potential when I had my doubts, helped me through challenges, and encouraged me with a smile and helpful attitude.
As a student at OCCC, I would encourage you to join me in expressing appreciation to the faculty and staff here. They are here because they care about you and simply love teaching and helping students—and your words of appreciation would mean so much to them.
—Paul Sechrist
OCCC President