'Beethoven geek' Boyle wins national award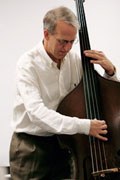 Michael Boyle
A music professor who describes himself as a "Beethoven geek of the highest degree" will receive a national award this spring.
Michael Boyle has taught at OCCC for six years. He will be recognized by the National Institute for Staff and Organizational Development (NISOD).
Boyle is an avid double bass player as well as a jazz enthusiast.
He is the program director for the music program.
"This semester the music department is producing 12 concerts in 16 weeks, which is really aggressive," Boyle said.
These include student concerts, faculty concerts, and recitals produced by the music department.
Boyle also oversees all aspects of the music appreciation curriculum, which is a multi-section general education course.
"I have really upped, what I would say, the intensity of the music appreciation curriculum," he said.
The course now includes units on world music, as well as a unit on the musical "Oklahoma." It also includes a segment on popular musician Michael Jackson.
"That is kind of a stretch but it shows the traditions of choreographed dance," Boyle said.
"We still do the same dances [today] that Agnes de Mille choreographed for Oklahoma in the 1940s."
Boyle stresses intensive writing in his Music Appreciation classes.
"Writing is the most important skill that you take away from OCCC," he said.
"If you can't write a good paper, you'll never write a good resume and if you can't write a good resume, you'll never get a good job."
Boyle added that no matter what profession you go into, you will have to write.
"If you go into nursing you'll have to write reports. In my previous career [as a chef] I wrote budgets and menus."
In 2009, Boyle started working on a project to get a recording studio on campus.
"I think it is important for students to have hands-on experience with the practical tools that they're going to use in their profession," Boyle said.
Today OCCC has two recording studios.
"They were built from scratch with no room and no budget and now we have two full-blown professional level recording studios," Boyle said. "They are the same recording platforms that they use in all the top studios in New York and Los Angeles."
The project was funded by a generous grant for the OCCC foundation, as well as money from the music and film budgets, and equipment on loan from institutional video services, Boyle said.
Since 1978, "the NISOD has emphasized the importance of teaching and leadership excellence in institutions of higher education," according to the NISOD website.
The NISOD excellence award selection criteria are left for each school to decide.
"NISOD is [about] what are they doing in the classroom. Are they going above and beyond; are they illustrating the finest in what teaching and leadership can be? That is part of the standard we use in choosing a NISOD recipient," Ruth Charnay, Department Director of Communications and the Arts said.
Charnay added, "[Boyle's] a terrific asset to OCCC and Arts and Humanities so we wanted him to be recognized."
Boyle and the other NISOD Excellence Award winners will be attending the NISOD national conference in Austin, Texas, in May 2012 to receive their awards.
For more information, contact Boyle at mboyle@occc.edu or visit his office in room 149 in the Visual and Performing Arts Center.
To contact Mackenzie Mann, email onlineeditor@occc.edu.