'Bates Motel' fills in missing gaps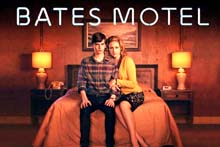 I was never the type of person to watch a television series with even a slight commitment, but that was before Netflix controlled my life.
I have watched every season of "Breaking Bad," "American Horror Story," and now, I'm working my way through "Bates Motel."
"Bates Motel" is a sort of prequel to Alfred Hitchcock's movie "Psycho," which is incredibly intriguing.
Though many people have watched the movie and know how it ends, it doesn't spoil any details in the series.
The show is drawn around three main characters — Norman Bates (Freddie Highmore), his mother Norma Bates (Vera Farmiga), and Norman's half brother Dylan Masset (Max Thieriot). The three have very separate storylines with different antagonists, which don't always have anything to do with the main story of Norman Bates becoming a psycho.
The show takes the original storyline of "Psycho" and fills in a bunch of blanks, like how Norman obtained Bates Motel, why he's a psycho, and how it all began — even his taxidermy hobby.
I think one of my favorite parts of the show is how it allows you to forget Norman's severe condition for brief moments, where he's behaving like a normal teenage boy.
His mother, Norma, is trying her best to keep the business of the Bates Motel running, as she tries hiding the incidents Norman creates. Meanwhile, Dylan Masset, Norman's half brother, is just trying to find his purpose in life since he has never been properly loved by his mother.
And Norman is just living every day as an awkwardly goofy, nice kid looking for love in all the wrong places.
I'm pretty sure he's in love with his mother and there's a weird sexual tension throughout the show.
It's all hunky dory when Norman is being normal and hanging out with friends, but viewers are quickly reminded of how weird the show is when Norman and his mother hang out.
As Norman Bates said, "a boy's best friend is his mother." They don't call him psycho for nothing, folks.
Rating: A
To contact Bryce McElhaney, email editor@occc.edu