Basketball competitions planned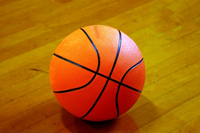 Basketball players on campus will get their chance to prove they are the best shooters around during OCCC's intramural 3-point and basketball golf competitions, said Sports Assistant Matthew Wright.
The 3-point competition is set for noon, Tuesday, Feb. 17, and has a similar format to the NBA 3-point competition, Wright said.
"They'll have a certain amount of time to shoot however many shots from each position, and you add up all the points after that," he said.
"The way it's going to work is the first round goes from noon to 2 p.m. At any time in that time frame, somebody can come in and do the competition.
"After 2 o'clock, I'll total the scores up. Then the top three or four — maybe more if we have a lot of people — will make it to the second round.
"Then they'll have between 2 and 4 p.m. to come and do that round."
Basketball golf is a different kind of competition, Wright said, to test overall shooting ability and not just 3-point shooting.
"In golf, you have to have the ball in the hole within a certain number of hits to get a par," he said.
"I'll have nine different spots out there that people have to shoot from.
"If it takes you one shot to make that shot, you get 1 point. If it takes you five shots, you get five points.
"The lowest scores will advance to the next round.
"The second round will be a different format … . The course will move around and the shots will be different."
Unlike other intramural sports, Wright said, these two allow students to participate on the spot without having to sign up beforehand.
All students need is a valid OCCC ID to participate.
For more information, contact Wright at 405- 682-1611, ext. 7684, email matthew.j.wright@occc.edu, or contact the Recreation and Fitness department office at 405-682-7860.
To contact Clayton Mitchell, email sportswriter@occc.edu
Photo by Arvind Balaraman. Published on 22 April 2010