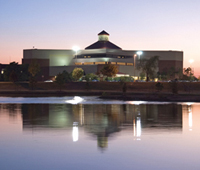 After working with OCCC's Baptist Collegiate Ministries on and off for the past 32 years, director Mike Barnett will be stepping down. Taking his place will be Denny Freeman, another leader who has worked with the BCM in Oklahoma for more than 20 years.
Since classes have resumed this semester, Barnett and Freeman have led the BCM meetings together as a team, but Freeman will soon be on his own.
"We're just transitioning right now so Denny kind of knows how this works," Barnett explained.
But what approach will Freeman be taking as he steps in to his position OCCC's new director?
"The BCM works off the L.I.V.E.S. principle," Freeman said. "The acronym stands for loving God, investing in others, value Biblical living, equipping people, and sending people out in missions. That's what every BCM's focus is."
The history of BCM goes back to the 1940s, and only grows bigger each year. The statewide ministry program has spread to 37 campuses across Oklahoma, Freeman said.
BCM President Sierra Biagas says attendance on campus has risen steadily this year. She said she looks forward to working with Freeman this semester and believes he can make these numbers rise even higher.
She smiles with excitement when talking about the future of OCCC's BCM and the work with its new director.
"I think he will be a really good contribution to BCM and I'm looking forward to having him as the director," Biagas said.
Biagas said she hopes that, with the new director, the group can do more activities besides their noonday meetings. She said she would like to see events such as bowling or retreats, things to bring everyone closer together.
At Barnett's recommendation, Freeman's work will be focused entirely on OCCC's BCM.
"This is where my ministry is at," Freeman said.
The BCM meets Mondays from noon to 12:50 p.m. in the lobby of the Bruce Owen Theater and also between 12:30 and 1:20 p.m. Thursdays in room 3N0 of the Main Building.
The BCM provides a free lunch with Christian fellowship on these days and is open to everyone on campus.