Ballet, swing added to spring lineup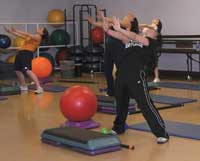 "New year, new me," is a popular phrase among people who aim to make a change in their physique as a New Year's resolution. OCCC students who wish to fulfill their resolutions can take advantage of the many fitness classes the Recreation and Fitness department has planned for the spring semester.
The weekly schedule for OCCC's spring group fitness classes was released Jan. 5, showcasing some of the new classes that are offered, such as Ballet Barre, STEP Aerobics and West Coast Swing.
Carole Valentine, OCCC's Health and Fitness Specialist, oversees the classes and is excited to add the new ones to the schedule, especially West Coast Swing.
"Years ago, the Recreation and Fitness department used to teach ballroom dance and Latin dance, and those types of classes," Valentine said.
"Elizabeth Hobi, my evening instructor, has a strong background in dance, and a lot of times she will approach me and say, 'What do you think of this idea?'
"She has an interest in teaching these classes and we're putting them on the schedule to see how well they take."
Valentine said she hopes the classes will help students be able to get fit, not only physically but mentally as well.
"College students are under a lot of stress and exercise can help reduce that stress," she said.
"It can help them live longer lives, and it can help reduce the risk of heart disease, cancer, diabetes, and all these things you see on the news every day."
Faculty and staff can attend unlimited classes for free as part of their Wellness Benefit, something that Valentine thinks will be important in the near future.
"I think offering fitness classes is going to be much more important in the next year, or the next five years, as far as making sure that our employees are on the right track to health," she said.
"So as part of our Wellness Incentive, offering these classes is the best way to go and the best way to keep the longevity of your workforce."
Students wanting to attend any of the fitness classes can purchase a Group Fitness Pass for $35 and attend unlimited classes during the spring semester.
Community members can purchase a 4-month Group Fitness pass for $125.
Student passes can be purchased by creating a MINDBODY online account, and presenting a valid OCCC ID at the Wellness Center desk, located on the first floor of the Main Building.
For more information,contact Valentine at carole.m.valentine@occc.edu, or call 405-682-1611, ext. 7662.
To contact Clayton Mitchell, email sportswriter@occc.edu