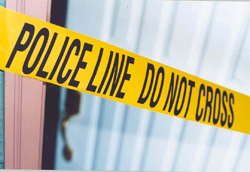 On Dec. 21, a backpack containing items worth an estimated $785 was snatched from the front of the OCCC Bookstore when two suspects allegedly grabbed the bag just a minute after it was set down.
OCCC student Timothy Hare left his backpack on the ground next to the bookstore cubbyholes at 4:39 p.m., according to a report filed with OCCC Safety and Security.
One minute later, security camera footage from outside the bookstore shows two suspects described as one white female with blonde hair past her shoulders, wearing a gray hooded sweat shirt, blue jeans, white tennis shoes, carrying a green purse over her right shoulder and carrying a black backpack in her left hand, and a white or Asian male with short black hair, wearing a black fleece jacket, black sweat pants with white stripes down both legs carrying a book in his left hand, appear on video.
It appears the male suspect acted as the lookout as the female set her bag next to Hare's bag, then picked up the victim's bag and left with the male toward the main entry near the Welcome Desk, leaving behind the bag she walked in with.
In the video, the two suspects then headed toward parking lot A where they were met by a third party, who was not seen by surveillance cameras, in a canary yellow or cream-colored 1980s model Chevrolet Cutlass coupe.
Hare's backpack contained prescription glasses, an iPod charger, jacket, work keys and loose change.
The Oklahoma City Police Department was contacted to file a larceny report and to have an officer come to the OCCC Safety and Security office to take possession of the backpack that was left by the suspects.
According to the report, the backpack left behind contained blank City of Norman papers, makeup, a lock from a car door, a flashlight and a pen.