Avenged Sevenfold finds tamer side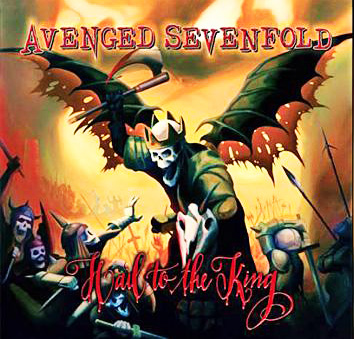 Avenged Sevenfold released their highly anticipated sixth studio album "Hail to the King" on Aug. 27. This marks the first album released featuring Arin Ilejay who stood in place of their late drummer Jimmy "The Rev" Sullivan during their Buried Alive tour in 2011.
He was made an official member this year and this is the first album without any musical contributions from "The Rev."
My initial feeling toward the music after listening to the album in its entirety was bewildering amusement. It caught me off guard because this is a whole new side of Avenged.
It was almost as if they were holding back the aggression that is usually at the forefront of all their music. The elements were still there but somewhat layered in with a new profound sound of reflection and contemplation.
The first thing I noticed after listening to the title track "Hail to the King" was they really stripped things down.
The song by itself just left me wanting more. I felt that frontman M Shadows was holding back vocally. He has a wide vocal range and he didn't show off his capabilities enough in their first single. That set off my curiosity as to why they chose this song to kick off this album.
The album as a whole is tame and that would usually leave me disappointed but I think they pulled it off.
I really dig the new direction they seem to be going.
I do have to say if you're a die hard Avenged fan and are looking forward to Synyster Gates melting your face off in every song, I must warn you now that is not going to happen.
The opening track "Shepherd of Fire" is an epic intro that sets the mood for the entire album.
The song "Planets" is the most original track on the album and manages to transform the album into a beast.
The vocals are solid and M Shadows really shines.
The overall composition of "Acid Rain" really stood out to me. I think it is a perfect closer.
As a whole I felt "Hail to the King" is simplistic and familiar which gives it a comfortability that will have me revisiting the album again and again.
Rating: B