Author to tell of false conviction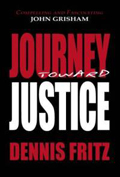 Life without parole. That was the sentence imposed on Dennis Fritz in 1988 for a murder he did not commit. Fritz will speak about his trek through the Oklahoma criminal justice system and the appellate court system during his presentation at 2:30 p.m. Wednesday, Oct. 12, in the College Union.
Fritz is the author of "Journey Toward Justice," a non-fiction book detailing his personal account of injustice, incarceration and ultimate vindication. Fritz will be meeting the public and signing copies of the book before his campus appearance. He said his mission is to increase public awareness of wrongful convictions.
Along with Ron Williamson, Fritz was charged in May 1987 with first-degree capital murder in the December 1982 rape and death of a waitress in Ada. He said the evidence was plagued by a botched police investigation, false information and insufficient forensic science.
Fritz was convicted of the crime in April 1988. One juror's vote spared him from the death penalty. Williams wasn't so lucky. In the midst of severe mental illness, he learned he had been sentenced to death.
"I could never imagine what Ronnie went through," Fritz said in a telephone interview.
Upon incarceration, Fritz soon realized the difficulty of prison life.
Fritz said he began working in the prison's law library in order to fight the miscarriage of justice and reclaim his freedom. Another inmate told him about an organization and its mission to free innocent people through DNA testing. Fritz sought help from the Innocence Project to overturn his conviction.
After spending more than 11 years in prison, Fritz had exhausted all of his legal appeals. At that time, Williamson was five days away from execution. The Innocence Project accepted their cases and succeeded in exonerating both men in April 1999 through DNA technology which also revealed the identity of the true killer.
Fritz and Williamson subsequently sued and won an undisclosed settlement against the state of Oklahoma and city of Ada. Williamson died in 2004.
Through it all Fritz relied upon his faith and family to sustain him. He now works with the Midwestern Innocence Project in order to support reform to a legal system that failed him.
Attorney and author John Grisham also wrote about the case in his first non-fiction bestseller, "The Innocent Man," published in 2006.
The Innocence Project reports 273 post-conviction DNA exonerations in America with 18 cases in Oklahoma.
Fritz opposes the death penalty and worries about the current criminal justice system.
"The Troy Davis deal is a real setback," Fritz said, referring to last month's execution of Davis in Georgia after the U.S. Supreme Court denied his last appeal. "Seven out of eight witnesses recanted."
Davis insisted he was an innocent man and never altered his declaration.
This also is the first year of a local school's foray into the innocence movement. The Oklahoma City University School of Law established the state's first innocence project clinic this fall.
Innocence Project Director Tiffany Murphy said there already are cases in the project.
"Dennis is an amazing man to survive and prosper after such a horrific injustice," Murphy said in a telephone interview. "His spirit and courage are commendable."
Fritz's appearance coincides with the celebration of Humanities Week and the Keith Leftwich Memorial Library's "The Big Read," a program designed to promote reading and related discussion sponsored by the National Endowment for the Arts.
This year's selection is "A Lesson Before Dying" by Ernest J. Gaines. The story is about a man who is wrongfully convicted of murder and sentenced to death.
For more information about "The Big Read," visit www.neabigread.org. For more information about The Innocence Project, visit www.innocenceproject.org.
To contact Alisha Davidson, email onlineeditor@occc.edu.