Arts Festival Oklahoma starts Sept. 3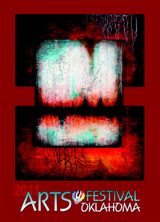 For many cities, the start of September means some kind of Labor Day event. For Oklahoma City it means it's time for Arts Festival Oklahoma.
The festival is an annual celebration held at OCCC that features visual and performing artists from around the state and country.
This year marks the 33rd anniversary for the three-day event, which will kick off at 10 a.m. on Saturday, Sept. 3, and end 5 p.m. on Monday, Sept. 5. While parking is $5, admission will be free.
The children's tent is a favored spot for many each year. Lori Colbart, music major, said it is one of the things she most looks forward to.
"I take my daughter," Colbart said. "She's 10, but I enjoy picking out the beads for her to make necklaces."
Wide ranges of arts in many mediums await visitors to AFO.
There are ceramics, digital arts, drawings, textiles, fine crafts, glass, metal, paintings, photography, sculptures and much more in the 164 art booths covering the campus.
This year's featured artist, Steve Hunsicker, said he works with a mixture of mediums and his pieces are built around his own wood carving centerpieces.
Hunsicker describes the creation of his pieces as being "not limited to the time it takes to create the physical piece.
"The process of creation is a manifestation of a person's life experience."
He said his work draws from so many sources the creation ends with the personal life experiences of the viewer.
For many attending the festival, the art of choice will be the culinary kind.
While many fair favorites will be available such as foot-long corn dogs and funnel cakes, the food court will boast a number of ethnic specialties from Italian, German, Mexican and Greek cultures.
Vendors will provide food options including gelato, fajitas, gyros, and Indian tacos, pulled pork, turkey legs, cinnamon rolls, roasted corn cobs, and chocolate-dipped cheesecake on a stick.
Live performances will resound throughout AFO with a mix of classical, country, Latin, and world music from both internationally recognized and local performers.
Saturday evening will feature a performance from Riders in the Sky, a comedy and western band that takes listeners back to the day of such country artists as Gene Autry or Roy Rogers while keeping things light and wacky.
Sunday night will include a performance from the Oklahoma Philharmonic that will conclude with a fireworks show.
Arts Festival Okla-homa depends on many students, faculty and staff to volunteer to help in the set up and production of the event.
Matthew Caldwell, game design major, has volunteered for the past couple of years.
"I'm looking forward to the people and atmosphere," he said.
"I really like to help people … and I figured I would like to extend my help toward the volunteer work at the Arts Festival."
Anyone interested in volunteering still has time to do so. For more information, contact the AFO office at 405-682-7576 or artsfestivaloklahoma@occc.edu.