Arts Festival Oklahoma returns tomorrow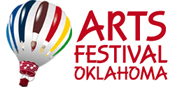 Arts Festival Map
The three-day jubilee known as Arts Festival Oklahoma is on its way once again.
Saturday through Monday, Arts Festival Oklahoma will return to OCCC's campus for the 32nd annual event.
An event that started in 1978, the festival has become a staple on the OCCC campus, said Lemuel Bardeguez, Cultural Programs director.
" … Arts Festival Oklahoma has become one of OCCC's flagship programs over the many years," Bardeguez said.
"It is a great gateway for those that are just starting at the college or for those who intend to do so by showing what OCCC has to offer."
Bardeguez said Arts Festival Oklahoma is renowned for its diversity and ability to cater to each individual.
Each year, he said, thousands gather on campus to celebrate art, music, and food. While observing the art, guests can enjoy the luxury of live bands and taste the festival cuisine.
In the inaugural event, Bardeguez said, Arts Festival Oklahoma exhibited more than 100 arts and crafts displays while providing musical entertainment.
The tradition continues as each year artists and entertainers continue to make the trip to Oklahoma City, he said.
Bardeguez said although the focus is on Oklahoma, many from around the nation are routinely involved with the festival.
Entertainers and artists from Texas, Kansas, Missouri, and many other states travel to display their talents over the course of three days, he said.
Its three-day schedule allows for a large attendance, which leads to a turnout in the thousands.
In 2007, Bardeguez said, more than 22,000 people gathered on OCCC's campus to participate in the festivities.
For a complete list of food vendors, click here.
A complete list of musical performers can be found here.
Sports Writer Morgan Beard can be reached at staffwriter2@occc.edu.