Arts Festival Oklahoma in 37th year
Arts Festival Oklahoma is fast approaching. The festival runs from Sept. 5 through 7, and will feature more food, art, and entertainment than ever before, said Cultural Programs Events Coordinator Chuck Riley.
Going into its 37th year, Riley said, there will be around 130 artists, with featured artist Robert Wardle. In addition, the fair will play host to 14 food trucks with diverse menus.
"There's hot dogs, pizza, Indian tacos, gyros and [more]."
Riley said the fair is offering something new this year as well: demonstration participatory art which will feature artists such as glassblower Robbie Weston, as well as wood turners and pottery shows.
There will still be a children's creative center tent, he said, and this year there also will be inflatables provided by Prodigal Entertainment.
Music is on the agenda too, Riley said.
He said Squonk Opera, a group of musicians out of Pittsburgh, will perform their newest opera "Pneumatica," an opera driven by air.
"You have to go and see it to figure it out," Riley said. "I don't know how else to explain it."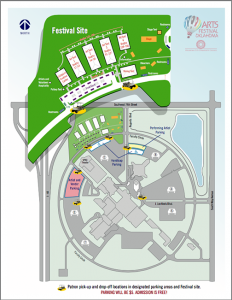 The group will perform three shows a day on Saturday and Sunday.
The fair also will feature musicians such as We The Ghost, with a strong local presence added from Edgar Cruz and an all-girl group Annie Oakley.
For automobile fans, the Oklahoma Mustang Club will host a car show running from 11 a.m. to 7 p.m. on Saturday.
"There's going to be anywhere from 26 to 50 cars, ranging from 1964 models to 2015, and even a few race cars."
For those looking for a small repreive from the heat, National Theater Live from London will be showing "Treasure Island" at 1 p.m. Saturday, "Of Mice and Men" at 1 p.m. on Sunday" and "The Audience" at 11 a.m. on Monday in the VPAC Theater.
On Sunday night, Riley said, those at AFO can expect a special show.
"Sunday night we have the regular standard of the OKC Philharmonic and fireworks," he said. "Last year we shot off 800 shells. This year, we're trying 1,100."
In conjunction with the Philharmonic will be Crescendo, which Alumni Relations and Community Development Associate Director Randy Cassimus calls "a fundraiser party."
The event will be held from 6:30 to 9 p.m. Sept. 6, at the VPAC.
A $50 ticket price covers parking for the festival, which normally costs extra, and gives attendees access to food catered by a variety of restaurants like Mickey Mantle's Steakhouse.
Entertainment at Crescendo will be provided by local band Tequila Azul and OCCC's own Andrew May, alongside a selection of wine and beer. Casual attire is welcomed.
"It was a great success the first time last year, and we're trying to make it bigger and better this year," Cassimus said.
The event was attended by 120 people last year and raised around $6,000, "both figures we would like to double," he said.
The fair will run from 11 a.m. to 9 p.m. Saturday and Sunday, Sept. 5 and 6, and from11 a.m. to 4 p.m. on Monday, Sept. 7.
For more information, call 405-682-7576, visit www.occc.edu/afo, or www.facebook.com/OCCCafo.