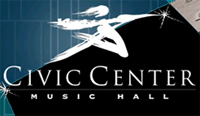 Attending live performances in downtown Oklahoma City will be the assignment for students enrolled in an eight-week humanities course that begins Friday, Oct. 29, said Ruth Charnay, instructor for the class.
The course, called OKC Arts Alive! HUM 2003, is offered through the OKC Downtown College. It is designed to expose students to a variety of arts in the area, said Charnay, who also serves as department director for Communications and the Arts in the Arts and Humanities division.
"My goal is for the students to get a better appreciation of arts offered in Oklahoma City," Charnay said.
This course meets on Fridays evenings from 6 to 11 p.m. at the Civic Center Music Hall, 201 N Walker Ave. There were still openings in the class as of Oct. 14. A textbook is not required for the course; instead students will buy tickets for the weekly events.
Among the performances on the schedule for this fall's class are a play entitled "Tuna Christmas," "The Nutcracker" or "Phantom of the Opera" performed by Oklahoma Ballet, a Philharmonic Orchestra concert, the musical "Oliver," the play "Mousetrap," and possibly others.
OKC Arts Alive! has been offered during the fall semester the past five years, Charnay said.
Gus Pekara, director of the Downtown College Consortium, said the ticket rate for the students in the class is very low. Tickets range from free to $25, but the total cost usually does not exceed $100.
After each performance, the class will meet to discuss and critique the show, Charnay said. This course will give students a chance to understand what the arts have to offer in Oklahoma City. The course counts as a humanities class for students working on their associate degree, Pekara said.
For more information, call the OKC Downtown College at 405-232-3382.