Artist sees his work as 'whimsical'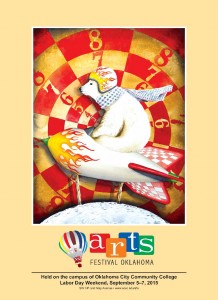 This year, the feature artist for Art Festival Oklahoma is Robert Wardle from Texas, an artist for more than 30 years.Each year, Art Festival Oklahoma features a new artist and highlights that person's art during the festival and on the official poster.
The chosen painting this year, "A Polar Bear's Daydream," depicts a polar bear in a rocket ship flying over the moon.
"It is a painting about imagination, childhood fantasies and the optimism we all felt when we were children," Wardle said.
"We could be anything we wanted and often daydreamed about the possibilities.
"Personally, I wanted to be an astronaut. So this painting allows me to fulfill one of my childhood fantasies."
Wardle said although he would call his work "whimsical illustrations," he likes to think of himself as a romanticist who paints in a "representational and photorealistic style."
"In that [30 years], I had the great fortune to see the work of the masters in the Art Institute of Chicago, The National Gallery of Art … ," Wardle said. "I have displayed work in galleries from Los Angeles to Washington D.C.
Wardle, who has studied art since the age of 8, has a Visual Communication degree from the University of Utah.
He said he has participated in Arts Festival Oklahoma for three years, something he enjoys.
"Arts Festival Oklahoma is a fantastic opportunity to not only see wonderful artwork, [but] an opportunity to get to know several of the artists as well."
He said friends who had previously displayed their work at the AFO convinced him to apply, including last year's featured artist, Jamie Rice out of Dallas.
Windle said he hopes everyone will stop and visit with the AFO artists. He said they are the most "creative and entertaining group of people."
"If you see something you love, tell us, or better yet, buy it because there is no greater compliment you can give an artist," he said.
"Nothing encourages me more than to see someone willing to part with something they worked hard for."
For more information, visit Wardle's website at http://wardlerobert.com or his Facebook page at www.facebook.com/RobsCustomCreations/timeline.