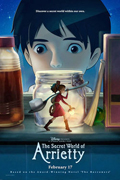 No name is more synonymous with breathtaking Japanese animation than that of Hayao Miyazaki, the brilliant filmmaker behind anime classics like "Spirited Away" and "Kiki's Delivery Service."
With Miyazaki nearing retirement age, fans of his work have wondered who will take the reins of Studio Ghibli, the film and animation studio he cofounded more than two decades ago.
That question was answered Feb. 17 when "The Secret World of Arrietty," directed by longtime Studio Ghibli animator Hiromasa Yonebayashi, hit American movie screens.
A project pondered by Miyazaki for 40-something years, "Arrietty" is a little different from original flicks like "Princess Mononoke" and 2009's "Ponyo."
If you will, it's a little borrowed.
"Arrietty" is a modern retelling of "The Borrowers," a 1953 novel by Mary Norton about 4-inch-tall people of the same name.
Borrowers live beneath the floorboards of humans' houses, taking only the little things — a dropped thimble here, a piece of tissue paper there — that they need to make their own homes.
The film follows Arrietty (voiced by Bridgit Mendler), a young borrower who lives with her mother and father under the floors of a quaint countryside cottage.
As Arrietty begins to embark on her own borrowing expeditions, she is spotted by Shawn (voiced by David Henrie), a lonely human boy with a potentially fatal heart condition that's left him bedridden.
Despite the warnings of Arrietty's parents (voiced by Amy Poehler and Will Arnett), who know all too well about the dangers of being found out by humans, she strikes up an unlikely friendship with Shawn, who risks his health — and life — to protect them all.
"Arrietty" is as compelling a story as any with Miyazaki's name attached, and like his other films, the imagery will take your breath away.
In masterfully animated landscapes, we see how the refreshing first drops of a spring rain storm can turn violent for the borrowers, and how awe-inspiring tiny ants can be when they are seen as more than just multi-legged pests.
The attention to detail is mind-boggling.
In Arrietty's shoebox-sized home beneath the floor panels, framed postage stamps serve as wall décor and pen cap sconces hold miniature flower sprigs.
All of these elements lead to a fantastic viewing experience, but what has always set Miyazaki films apart is their heart, and "Arrietty" certainly has it.
The film focuses on the extraordinary found in the ordinary, the not-so-simple feats that we take for granted every day.
Watching "Arrietty," you'll find yourself immersed in an enchanting world, moved by Arrietty's passion for her family and worrying for Shawn when his breath begins to falter.
It seems the future of Studio Ghibli is in good hands, because "The Secret World of Arrietty" is more than just a magnificent work of animation, it is one of the best films — animated or otherwise — that's come around in years.
Rating: A+
—Whitney Knight
Online Editor
To contact Whitney Knight, email onlineeditor@occc.edu.