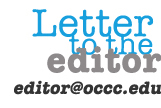 The Y is looking for great ideas to turn into community service projects as part of its third-annual "My Fresh Page" project. The Y will award a total of $20,000 to bring community service projects to life and encourages individuals across the greater Oklahoma City area to submit ideas that will help uplift local communities.
Giving back and providing support to our neighbors is a vital part of the Y's commitment to social responsibility. Across the country, the Y offers opportunities to volunteer, advocate and support programs that strengthen community.
The Y also believes in empowering people to make positive change right where they live, and invites individuals to submit project ideas by visiting ymca.net/freshpage, where community members from across the nation will be able to vote for their favorite project through Oct. 24.
Entries with the most votes will be reviewed by a panel of Y judges, and 10 finalists will be awarded funds to help make their idea a reality in their community. The Y will grant three $5,000 awards, three $1,000 awards and four $500 awards.
With the "My Fresh Page" project, the Y hopes to support ideas that nurture the potential of children and teens, help promote community health and provide support to our neighbors. Ideas can range from classes for school groups on how to address bullying, Saturday morning neighborhood walks, book and supply donations for area schools in need and everything in between.
The Y is so much more than a gym. We are a committed community partner that understands that ideas large and small can have an impact in our communities, Entering is easy and can be completed in five steps:
1. Visit the YMCA's My Fresh Page Project page and select "Enter" from now until October 24, 2014. 2. Fill out all the required fields.
3. Select the correct prize level to make your project a reality.
4. Describe the idea (500 words or less) and upload a photo or video.
5. Share your idea with others and encourage them to vote. Users may vote for an idea once a day.
Do you have an idea that could have an impact on your community? Visit the Y's My Fresh Page Project for complete rules or to submit an entry.