Area wrestling brings back childhood memories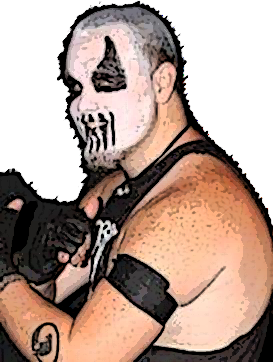 When I was a baby, my brother did his job of teaching me to love the things he loved. It was 1985 and there was nothing bigger at the time than professional wrestling, or at least in our little world.  My brother Matt taught me my first words. After the usual "momma" and "dadda," he taught me how to say "Hulk Hogan."
From that moment on, Hogan was my hero. I had WWF (now WWE) everything, from action figures, lunchboxes and T-shirts to Halloween costumes, coloring books, and bed sheets. I watched wrestling all throughout my childhood. I remember wanting to fight my neighbor, Danny, when he told me it was fake.
I watched WWE throughout the Attitude era, up to when I was in high school when I stopped watching it. Since then, I have kept tabs on it but have not been fully devoted to wrestling's storylines.
About a month ago, I had one of those blackout moments while surfing the Internet.  I came to and realized I had stumbled upon a local wrestling promotion, Sooner World Class Wrestling, and found an old time wrestling show happening the coming weekend. It was $7. I had to go.
I had a little trouble finding out exact details of the event. It seemed like I had to bounce around a few different websites to get all the info, but I finally found it all on the promotions Facebook site.
SWCW holds the majority of their wrestling events at a place called the "Underground Arena" on SW 25th.  The place is the perfect setting for a small-time wrestling promotion: dingy, dimly lit, and smelling like beer and popcorn.
When the show started, it was easy to engage in the storylines already in progress from the previous events. However, the sound equipment was terrible that night and I had a hard time understanding anything the wrestlers said. But true to wrestling form, it is always easy to tell the good guys from the bad guys.
The first match was a hardcore match which means there are no rules and a perfect introduction to SWCW wrestling. About two minutes into the match, the top rope broke on the ring.  The brawling went outside the ring as the crew repaired it.
The quality of all the wrestling is subpar, their timing is a little off, and the majority of the wrestlers are not nearly as athletic as their WWE counterparts, but all of this is to be expected.
Wrestling quality aside, I found the event highly entertaining. It was one part State Fair people-watching, one part entertainment, with a little sports event dashed in. There was an older lady, in her late 60s perhaps, yelling, "You suck!" over and over again at the bad guys as they worked the crowd.
I talked to a kid during intermission while we were in line for a hot dog, and he gave me some tips on who to cheer for in the coming matches. He told me his mother worked with one of the wrestlers Demarco Tate. The kid said he was nice and his favorite wrestler.
My personal favorite wrestler was named Maniac Mike. He was tall and slender, with long dark hair. After winning his match, he introduced the crowd to Pinny, a bowling pin whom he held to his ear as if it were talking to him, and then would relay Pinny's message to the crowd.
I enjoyed SWCW the way many people enjoy NASCAR. It isn't really the left turns people find exciting, it's the wrecks. There were plenty of wrecks that night.
The main event of the evening was a handicapped match, two men versus one, leaving all three men bleeding by the end. One of the men had to be pushing 50 and had a body that reminded me of a wooden barrel if wooden barrels could grow chest hair.
Overall, I enjoyed the evening. Cheap entertainment, cheap hot dogs, and cheap thrills rounded out my first SWCW experience.  Maybe it was a callback to my childhood days as a Hulkamaniac making me feel nostalgic, or maybe it was because it was something more genuine: seeing normal, everyday people do something they love.
Rating: B-
—Mitchell Richards
Special Assignments Reporter