Aquatic center to host championship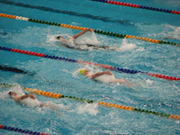 For the first time ever, the NAIA National Swimming and Diving Championships will be held at the Aquatic Center.
The event will take place Feb. 29 through March 2, said Roxanna Butler, OCCC's director of recreation and fitness.
The National Association of Intercollegiate Athletics announced the decision earlier this year.
"The NAIA approached us looking for a facility to host this event, which we had never hosted before," Butler said.
About 30 schools participate in the tournament bringing about 450 athletes and 600 parents.
In a phone interview with the NAIA's Manager of Championship Sports, Jamie Adams, explained why the college won the bid.
"OCCC had put in a bid to host the tournament so I went down there to check out their Aquatic Center," she said.
"Their facility is just so great and they have hosted so many large tournaments in the past, it was not a difficult decision."
It will be the 56th annual Swimming and Diving Championships for men, and the 32nd for women.
"Oklahoma Baptist University will be the only Oklahoma school competing for the NAIA championship this year," Butler said.
This is Oklahoma Baptist's first year with swimming and diving team.
According to the NAIA website's record books, the closest an Oklahoman college has come to victory at the swimming and diving championships was back in 1991 when Oral Roberts University came in second, behind a Missouri school.
California teams, such as Fresno Pacific and California Baptist, have dominated the tournament the past three years.
A full list of the competing school can be found on the NAIA website.
The location of the NAIA championship is selected every two years, Butler said, making OCCC host though 2013.
The NAIA is not as big as the NCAA when it comes to talent and numbers, but the organization contends it pays more attention to the student athlete.
"The NAIA also deals with the Champions of Character program, which focuses on a student's qualities besides athletic achievement," Butler said.
"We hope to add an event with water safety or swim coaching to the program."
Adams said the Champions of Character program recognizes five attributes: integrity, respect, responsibility, sportsmanship, and student leadership.
"It helps make a good balance between life, school, and athletics," Adams said.
The Aquatic Center has hosted large national swimming and diving events in the past, such as the Mountain West and WAC conference finals. Butler said this is just another tournament to add to the Aquatic Center's resume.
For more information visit: www.NAIA.cstv.com or visit the Aquatic Center for a schedule or contact.
To contact Matt Wisson, email onlineeditor@occc.edu.