Aquatic center offers opportunities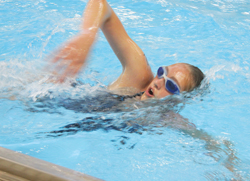 OCCC's benefits go beyond outside of the classroom.
While students attend the college to better their education, opportunities also are given elsewhere, such as the Aquatic Center.
The Aquatic Center has water safety classes that include lifeguard training and water safety instruction for those interested in possible careers within the field, said James Hensley, Aquatic and Safety Training Specialist.
Upon completion of the lifeguard-training course, users will be certified to become a pool lifeguard in Oklahoma and most other states, he said.
Those who take the class will learn the multiple skills needed to save lives in the water.
"It's great for students to take these courses and lessons if they're interested in a possible career," Hensley said.
The registration fee is $130. Participants must be 15 years or older and have the ability to pass a swimming skills test.
OCCC student Colin Daughtrey said he feels the lifeguard course could be beneficial to many people.
"If you ever want to have an awesome summer job, become a lifeguard at a water park," Daughtrey said.
"I'll probably take the course just so I have more options for myself, plus it seems like a lot of fun."
After mastering the lifeguard training, there is an additional course for those who wish to become a teacher.
The lifeguard instructor class will allow certification to teach many aquatic courses including lifeguard training, first aid and CPR courses, Hensley said.
Participants must have a lifeguard-training certificate, be at least 17 years old, and pass tests over LGT, first aid, and CPR. Registration is $85.
For those who wish to have more fun in the water, OCCC also offers scuba diving courses.
Blue Water Divers of Oklahoma City has partnered with the college to teach all levels of scuba certifications.
For more information about scuba diving, contact Allen Aboujeib of Blue Water Divers at 405-631-4433 or visit www.bluewaterokc.com.
For more information on lifeguard training courses, contact James Hensley at 405-682-1611, ext. 7662.
Sports Writer Morgan Beard can be reached at staffwriter2@occc.edu.