Aquatic Center is a proven attraction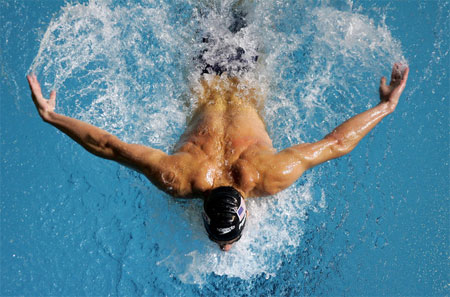 The National Association of Intercollegiate Athletics (NAIA) has officially selected OCCC's Aquatic Center as the venue to host their 2012 and 2013 Swimming and Diving National Championships.
Holly Shelton, manager of Sports Business Development for the Oklahoma City Convention and Visitors Bureau, said the NAIA chose OCCC over two other potential schools that were in the running to host the events; a process, she points out, that required a great deal of cooperation.
"It was a collaborative effort of the Convention and Visitors Bureau and OCCC," she said.
"We had to put together and submit a detailed bid as well as host NAIA in Oklahoma City to tour the facility, hotels and the city.
"We began working on this process several years ago."
Shelton also pointed out that sporting events generate a substantial amount of tourism for Oklahoma City and that OCCC has helped in luring athletes and supporters alike.
"We are extremely lucky to have supportive partners in varying sports," she said, "from swimming and diving to softball and lots in between.
"Due to that, a significant amount of OKC's tourism is sports related."
Shelton said that the selection not only benefits the school, but Oklahoma City as a whole.
"One of the most important benefits of this and other events hosted in OKC is the economic impact," she said.
"The NAIA Swimming and Diving Championships are estimated to bring slightly under $900,000 in economic impact each year.
"This includes hotel room revenue, visits to local attractions, (and the) shopping and dining these athletes and their families do while in town."
Shelton noted that the city of Oklahoma City and OCCC have developed a very healthy relationship and have consistently worked together to bring events to the metropolitan area.
"It's been great to work closely with the staff at OCCC to bring events into the city," Shelton said.
"They are such an amazing partner and open to bringing new events.
"We definitely have seen an increase [in tourism] due to more events being hosted on campus."
The NAIA has scheduled the 56th Annual Men's and 32nd Annual Women's NAIA Swimming and Diving National Championships to be held Feb. 29 to March 2, 2012, while the 2013 event will occur Feb. 27 to March 2.
The 22-year-old Aquatic Center has been the venue for a number of sporting events including the NCAA Mountain West Conference Championships since 2002.