Aquatic Center hosts Mountain West Championship swim meet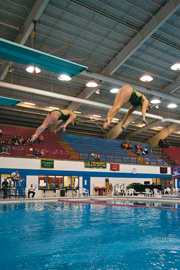 Chris James/Pioneer
Chelea Kelly, 21, and Mary Kate Hardy, 19, perform a synchronized dive at the Mountain West Swimming and Diving Championship on Feb. 25. They were representing Colorado State University in the OCCC hosted event.
The Boise State Broncos made a huge splash at the Mountain West Conference's annual Women's Swimming and Diving Conference Championship, taking home the victory.
The Mountain West Conference's championship meet was held at OCCC's Aquatic Center from Feb. 22 through 25.
The University of Nevada at Las Vegas placed second behind the Broncos. The San Diego State Aztecs finished in third place.
The Broncos trailed the 2011 champion Aztecs by one point (707-708) entering the 400-yard freestyle relay, but broke the record with a time of 3.17.55 in their first time in a Mountain West Conference competition.
Teams and coaches from the Mountain West Conference said they enjoy having the annual championship meet held at OCCC's Acquatic Center.
"It's been an excellent venue," said Dan McAllen, official of the Mountain West Conference swim tournament.
"We've enjoyed our time here."
McAllen said coming to Oklahoma City for the championship makes every team perform better and levels the playing field for those teams in different altitudes and climates.
McAllen cites the neutral location of Oklahoma City as a major reason for the conference's swimming and diving championship being held at OCCC's Acquatic Center.
"In our conference, a lot of schools swim at altitude and they come down here and it's easier to swim," McAllen said.
"Teams that swim at low altitude, like Texas Christian, don't like to go up and swim at high altitude."
McAllen said the coaches, teams, and officials enjoy coming to the college for the meet and look forward to returning in future years.
Eight teams participated in the event, including Air Force Academy, Boise State, Colorado State, New Mexico, San Diego State, Texas Christian University, UNLV, and Wyoming.
For more information about the Mountain West Conference Swim Meet or statistics from this past weekend, you can locate their official website at www.themcw.com/sports.
For a complete listing of future Aquatic Center sponsored meets, visit http://www.occc.edu/RF/pdf/Schedule.pdf.
For additional information contact the Wellness Center at 405-682-1611, ext. 7310.
To contact Cameron Ramsey, email onlineeditor@occc.edu.
To contact Brandon Willis, email sportswriter@occc.edu.
To contact Joey Stipek, email onlineeditor@occc.edu.