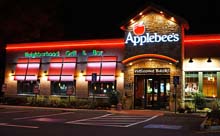 I don't get to see my parents very often, but when I do, I like to treat them to lunch.
Just recently they came to visit and while we were out, we decided to stop by Applebee's located at 4825 NW Expressway in Oklahoma City for some lunch.
Now, before I go about my review, let me just say that I normally pick Chili's over Applebee's even though they are almost the same, but Applebee's was closer.
When we first walked in, it took two hostesses to try and seat us. That should have been our first sign to leave, but we gave them the benefit of the doubt.
After being seated and waiting longer than what we expected, our waitress sulked over to take our drink order.
I wanted to tell her to smile, but was afraid of what would end up in my food from her and the rest of the staff walking around like they hated their jobs.
Finally, after about 30 minutes of waiting, our food was brought to us, or at least we thought it was our food.
The steaks were nothing but gristle, the salads had no dressing and the potatoes were cold.
Since we were paying for our food, we had it taken back so we could get something a little more acceptable. I mean my goodness, it seemed as though they left the food sitting out for the 30 minutes we were waiting.
After we had more edible food given to us, it seemed as though the staff left us to fend for ourselves.
Our waitress, probably happy to be rid of us, swiftly walked by and dropped the check on our table. No 'how is it going?' or 'need anything else?'. Just a walk and drop. How rude.
With all the things that went wrong, I am scratching Applebee's off my list of places to go eat. Usually, I give them the benefit of the doubt and give a second chance. But this was Applebee's fifth chance from me.
Although as previously stated, Chili's is the same as Applebee's, but their customer service is way above the quality of their sister restaurant.
Chili's, you have another customer now coming to you, no matter which is closer.
Applebee's, you disappoint. You failed far past the limit of no return.
Rating: F-
To contact Katie Axtell, email communitywriter@occc.edu