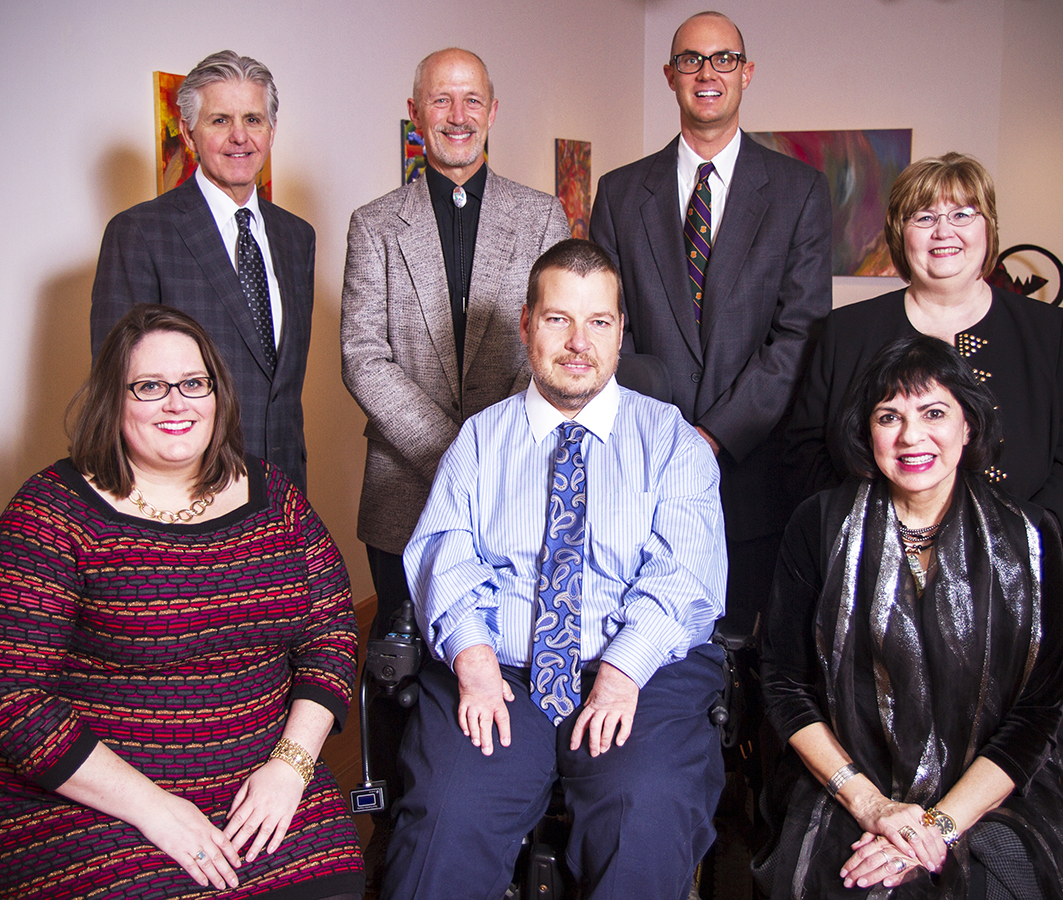 This year, seven new inductees were picked for the OCCC Alumni Hall of Fame, which took place Nov. 18 in the Sarkey's Atrium in the VPAC building, said Alumni  Relations and Community Development Coordinator Randy Cassimus.
Five of the inductees were OCCC alums and two were honorary, he said.
The inductees this year were Brenda Carpenter, OCCC's Financial Accounting director; Aaron Evans, owner of Evans Fine Homes; Laura Grisso, Platt College executive director; Randy Heitz, sports radio veteran; LeAnne Howe, author/playwright and distinguished Georgia University English professor — all of whom are OCCC alums.
Also honorarily inducted were Randy Kemp, digital audio producer and RK-1 Productions owner; and Collin Rosebrook, artist and Paseo Pottery owner.
Carpenter said she felt honored to be selected.
"I love OCCC," she said. "To be honored by the college that I love is really just a cap on my career as far as I'm concerned."
Grisso said she never would have imagined being in the OCCC Hall of Fame.
"OCCC gave me the foundation I needed to be successful," she said.
Evans said he felt great about becoming an inductee for the Alumni Hall of Fame. He said the banquet in the Sarkey's Atrium was wonderful.
"I'm very fortunate to be a part of that group," he said.
Cassimus said the banquet went exceptionally well.
"It was the very first time that we've had it in the new theater. It was beautiful and it looked really, really nice," he said."The feedback on it was really good. The meal was great and the audio visual presentation was really good."
Cassimus said videos were played for each inductee before they went up to accept their award.
"The whole evening was good," he said.
The purpose of the Alumni Hall of Fame is to honor OCCC alums or community members based on their service or contributions to the community or the college, Cassimus said.
"It honors those people who have done those things and we want to be able to honor them," he said.
"It also showcases former students and the programs that they went through to get their start."
Cassimus said the Alumni Hall of Fame started in 2006.
"The process is people get nominated and there were a bunch of people who were nominated," he said.
"There's a committee that screens through the applications and ultimately, we had seven inductees … ."
For more information, email rcassimus@occc.edu.