All music lovers will dig 'Sound City'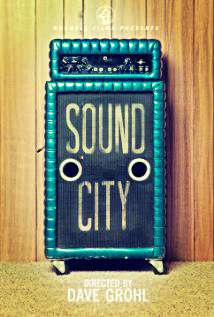 Nirvana, REO Speedwagon, Fleetwood Mac, Johnny Cash, Tom Petty. What do these artists have in common? They all recorded albums at Sound City Studio.
Directed by Dave Grohl (Nirvana, Foo Fighters) "Sound City" is a documentary which tells the story of how a run-down studio, a sound board and good timing helped make music history.
Located in Van Nuys, Calif., Sound City has housed a plethora of artists during its run from 1970 to 2011.
The documentary starts out with various artists talking about the studio and their first impressions. Many agreed while the studio was not "top notch," it had a certain quality about it that drew them in.
Perhaps one of the most important aspects of the documentary is its featuring of the Neve console.
Invented by Rupert Neve, the console is a one-of-a-kind piece of equipment that was responsible for recording more than 100 certified gold and platinum records that made musical history.
One thing the documentary clearly points out is how different music recording was back then: no digital or Autotune; just pure reel-to-reel recording magic. As one artist puts it: "There was no hiding. What you recorded through the console was real."
The documentary is filled with archival clips from artists recording at Sound City as well as photos and audio clips. Throughout the documentary, Grohl as well as other musicians and people associated with the studio, share stories, make commentary on what it was like to record and give their view on what made it so special.
Toward the end of the documentary, Grohl talks about his purchase of the Neve console following the shutdown of Sound City in 2011.
"I thought this console would go straight to the Rock N' Roll Hall of Fame but now it's in my studio … and I plan on using it," Grohl said.
Sound City is more than just a trip down memory lane. It's a celebration of great music and artists who have brought us into today.
Despite Sound City's shutdown, Grohl manages to bring in artists such as Paul McCartney, Stevie Nicks, and Rick Springfield to record tracks for the film's soundtrack "Real to Reel." The fact that Grohl was able to gather all these amazing artists into one documentary to share their stories is truly breathtaking.
This documentary is a must-see for anyone interested in production, music history or just great music in general.
After watching this film, I felt inspired by the work and talent of the people who were involved in making this great music and in awe of how one small studio could have such an effect on music history.
Rating: A