'Alien' visitor comes to FACE Center with children's author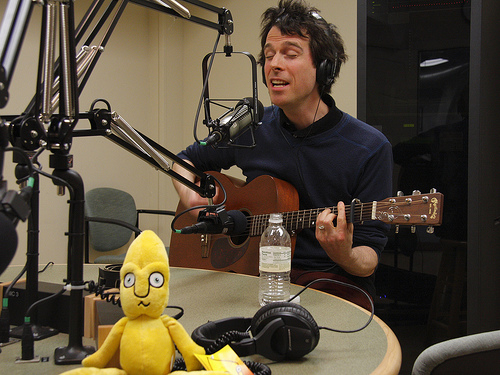 More than 50 people, including parents and children, came to a performance of Morgan Taylor and the Gustafer Yellowgold's Show at OCCC's Family and Community Education Center on July 26.
Taylor is the cartoonist, author, and singer of the Yellowgold book series and musical shows. On his website, Taylor describes the golden yellow sunray figure of Gustafer Yellowgold as a Solarian because he comes from the Sun. Taylor said Gustafer does not like to be referred to an as alien.
Taylor and his family travel all over the country to expose everyone to the tales of the popular character. While it may be stressful at times, it does pay off at the end, he said.
"I enjoy making children's books," Taylor said. "Not only is it for enjoyment, but for them to learn as well."
In addition to the story, there were eight sing-along songs for the parents and children to be a part of Yellowgold's story. Yellowgold merchandise was sold, ranging from T-shirts to stuffed animals of the character.
Morgan Parnell, a first-grader at Southern Oaks Elementary, said she is a huge fan of the Yellowgold character and was excited to see him live.
"I loved it!" Parnell said, "My favorite song was 'The Butterpond Lake.'"
The FACE Center hosted the children's program on behalf of Southern Oaks Library.
Southern Oaks librarian Cheryl Jones represented the library staff.
"I was pleased with the turnout," Jones said. "Everyone had an amazing time."
This summer OCCC has partnered with the Southern Oaks library to host the library's Neighborhood Arts Program because the library is undergoing a renovation.
The FACE center is located at 6500 S. Land Avenue, just north of the OCCC campus.