After almost four decades, prof says goodbye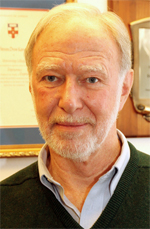 Rachel Morrison/Pioneer
Prof. Steve Kamm
Before he found a job he liked enough to stay with for 39 years, Physics Professor Steven Kamm worked his way through a variety of positions — cutting lawns, cleaning pools, working in a camera shop, a dry cleaners, and while in college, he worked for Douglas Aircraft as an errand boy, then eventually as a draftsman.
Kamm also earned a bachelor's degree in engineering at University of California, Los Angeles, and a master's degree in Ergonomics at the University of London. In addition, he completed all the necessary coursework for a doctorate at the University of Oklahoma, but didn't complete the degree.
Born in Santa Monica, Calif. in 1944, Kamm said he has done a great deal of traveling in his 66 years.
"I spent four years as an Officer in the U.S. Air Force, where I earned the rank of captain, and spent time in Vietnam and London."
While stationed in London, Kamm said, he chose to take a European discharge, rather than return to the states immediately.
He said his tourist visa was about to run out when an English friend requested he apply to the University of London.
Kamm said he thinks the University of London wanted international students and his educational background and experiences were deemed satisfactory enough to allow his acceptance.
After completing his master's degree in London, he decided it was time to return to the U.S.
"In 1972, returning to the USA after several years overseas, I stopped in [Oklahoma City] to visit friends. When asked what I would do with my life, I said I would probably return to California and work for the health department. For a reason which still escapes me, I added, 'But, I would like to try teaching,?'" Kamm said.
He said a friend told him about a new junior college in south [Oklahoma City].
He interviewed for a teaching position and impressed the people who were interviewing him with his master's degree from another country.
"It was then I found my calling," Kamm said.
Early in his teaching career, Kamm said, he developed and taught courses in physical science, college physics, engineering physics, computer programming, engineering and algebra.
Kamm said as more teachers began to be hired, he started to specialize in college physics, and physical science.
"My interest in the relationship between medicine and physics led to this specialization, as well as to becoming a faculty adviser for our Pre-Allied Health majors and a faculty sponsor of the OCCC Health Professions Club," he said.
Kamm also taught one semester at Central State University, he said, and at universities abroad.
"I have been accepted three times as a Fulbright Exchange Teacher," he said. "In each instance, I spent a year living and teaching in the United Kingdom.
"The first exchange was to north Wales, the next to Cambridgeshire, and the last to southern Yorkshire."
Kamm said he has lived a very fulfilling life that included the honor of meeting John F. Kennedy when he was a presidential candidate.
Kamm said he had missions flying over Vietnam, and once drove alone across the Soviet Union.
One thing he said rates high on his list of accomplishments is riding a camel across Egypt to the Great Pyramids.
"As I grow older, family and friends become more important, he said. "So I would put the birth of my grandson as the most exciting in my life."
Kamm said he has visited more than 36 countries on five different continents.
He said he does not have a bucket list of things he wants to do before his time on Earth is complete, but would like to visit the Great Wall of China, Machu Picchu in Peru, and spend some time in New Jersey with his sister Barbara.
"Mostly, however, I want to enjoy my grandchildren as they grow into adulthood," Kamm said.
When asked if he would like to go back to any part of his life, he replied, "No, thank you. I really don't have any desire to go back.
"If you lead your life as fully as possible, what is there to go back for?"
Kamm said he is an avid genealogist. After he retires he plans to continue developing a history for each branch of his family.
"I suppose anyone who reaches the age of 60 begins to think about retirement," he said.
"I'll soon turn 67 and complete my 39th year in the classroom. So, it's time to pass the torch and let younger faculty take my place."
Kamm said his moral code is, "if you can't tell your mother about it, you shouldn't be doing it."