African student plans career in gas and oil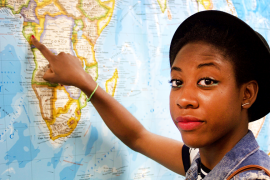 Rumor has it that people from Gabon are showoffs. At least, that's what native Joyce Ella, 20, said about the perception of her home country in west central Africa.
The international student said if academics weren't so important to her, her dream career would be as a model, since she's from a country with such a dramatic reputation.
While she was in Gabon, Ella said, she was able to travel abroad some, visiting Paris and a few states in America.
"New York City was fantas-tic," Ella said.
She said she visited the city last summer.
While Oklahoma may not be the most fashionable location in the U.S., Ella has decided it's not that bad.
"It's a good quiet place to study," she said.
On the down side, she said, it's harder to make friends and meet people here.
"At my other school (in Gabon), you would make 20 friends on the first day of school," she said. "Everyone was very social. Here, not so much."
Her home town is Libreville, the capital of Gabon and home to almost 800,000 people. She said everyone knows one another there.
"Someone I meet is already my friend's friend's friend," she said.
"I really like [that] though. Everyone is very friendly to each other."
Ella said she came to the U.S. a year ago. Prior to that she had attended English prep school in Gabon after graduating from high school.
She said she didn't want to be stuck in Africa, and had some friends in Oklahoma — both motivating factors in her decision to come to the U.S.
Ella said she is impressed with the number of choices American students have when it comes to which university they want to attend.
"In Gabon, there are not many universities, not many choices," she said.
Ella said she plans to get a two-year degree at OCCC, then transfer to the University of Oklahoma.
She said her academic plan is to get a business degree, and then use that to work in the energy sector in Oklahoma
"After I get my [associate degree], I want to get a (bachelor's) degree in oil and gas, and work as an adviser for an oil company, or maybe go to work in Austin, Texas," she said.
Ella said she plans to visit home soon, but since the airfare is so expensive, her parents only want her to visit sparingly.
"I'll probably visit them some time next year."
Gabon
Capital: Libreville
Population: 1.672 million (2013)
GDP: 19.3 billion USD (2013)
Size: 103,347 sq. miles
Official Language: French
Currency: Iraqi Dinar
Government: Multi-party system with the Prime Minister having executive power
Religion: Islam
Details: Iraq, officially the Republic of Iraq, is a country in Western Asia. The country borders Turkey to the north, Iran to the east, Kuwait to the southeast, Saudi Arabia to the south, Jordan to the southwest, and Syria to the west.
—www.google.com