Adventure awaits in 'Tangled'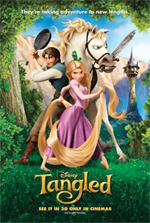 'Tangled" is to 2010 what 'Little Mermaid' was to the '90s.
It is another job well done by Disney/Pixar, released Nov. 24.
The story, based on the Grimm brothers "Rapunzel," tells the story of the princess who was "kissed by the sun" and given the gift of hair that heals when she sings.
Rapunzel (Mandy Moore) is taken from her home — the castle — as an infant and is raised by her abductor, Mother Gothel (Donna Murphy) in a tower hidden by waterfalls and towering trees.
With 70 feet of flowing blonde hair in tow, Rapunzel spends her days painting, reading and wondering about life outside of the tower.
Just before her eighteenth birthday, Rapunzel asks Gothel to allow her to leave the tower but her mother repeals viciously she will never allow her to leave and uses scare tactics to keep her there.
When her mother leaves on one of her regular outings, Rapunzel is met by Flynn Rider (Zachary Levi) who, in mid escape from kingdom guards, has stumbled upon Repunzel's tower.
Afraid for her life, Rapunzel holds Rider captive. In an act of defiance, Rapunzel requires Rider to take her to see the "lights" in the sky that magically appear every year on her birthday.
With the stage set for Rapunzel's grand entrance into the world, comedy and action ensue.
Moore was born to be the voice of a Disney princess. She brings her innocent, endearing voice to Rapunzel with the style and confidence she has earned from her career as an actor.
Levi's performance is captivating and at times seductive. He brings a clumsy, boyish charm to his character that adds comedic flare to his and Rapunzel's courtship.
The CGI graphics make the modern fairy tale as close to life as can be attained in an animated film.
The facial expressions in 'Tangled' are hilarious and realistic, including a scene when Rider pulls out all the stops to charm Rapunzel with his usually successful smolder.
Several songs throughout the film move the show along seamlessly.
A favorite is Rapunzel's theme when she expresses her dream to explore the world on her own.
Disney has hit the mark again with 'Tangled.'
It is a film that all audiences will love.
Without a doubt, it is the best Disney animated princess film released in a long time.
Rating: A+