Acting dean Information Technology takes permanent position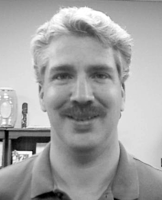 Tom Ashby
Tom Ashby has been named permanent dean of the Division of Information Technology after serving 20 months as acting dean in the same position.
Ashby said he welcomes the challenge of his job.
"The IT field is constantly changing and that's one of the reasons I got into it," he said.
"Almost everything has changed since I got into this field."
The college has made a commitment to stay current with technology, Ashby said.
He said OCCC students will be using the same technology at school that they will see in the workforce.
"It's one of the things I've been most proud of in my tenure," Ashby said.
In addition, he said, IT is one of the strongest and fastest-growing industries in the United States.
"Demand for IT graduates is stronger than ever," Ashby said.
"(The) industry needs even more graduates than we can provide."
One of the newest IT divisions is cyber security, he said.
"The computer is a powerful tool, one that people can misuse," Ashby said.
"People need to protect themselves, so cyber security is a field that is growing very fast."
He said cyber security concerns can vary.
"(Everyone) should be aware of everyday threats such as viruses and phishing," Ashby said.
Viruses are illegal, unauthorized programs that interfere with the operation of a computer.
Ashby said phishing is a practice of using fradulent e-mails to extract financial data from computer users for purposes of identity theft.
However, he said, cyber security graduates face greater challenges, such as protecting corporate infrastructure.
He said a common problem among IT students is thinking because they've used computers their whole lives to word process and surf the Internet, they think they know everything.
"Students are surprised by the amount of effort required in even an introductory level computer course," he said.
In his spare time, Ashbey said, he enjoys photography, books, and traveling with his family.
He said his photography work was featured in the student and faculty art show when the Visual and Performing Arts Center opened in 2008.
To contact Christian Kosted, e-mail seniorwriter@occc.edu.