Accounting lab available to help students succeed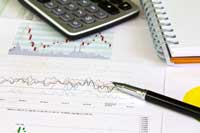 Tucked away in the northeast corner on the second floor of the Main Building in room 2R1 is a hidden gem. The Accounting Lab isn't one of the most well-known resources on campus, said Myra Decker, accounting lab supervisor. However, she said, accounting students need to be aware of the available help.
Students enrolled in Accounting I Financial and Accounting  II Managerial can stop by the lab to get help with homework assignments, use the computers to complete homework on Connect, or simply to study, Decker said.
"Students can use the lab without needing help," she said. "It's just a nice quiet place to study. We have arranged it with small groupings of tables, so sometimes they just naturally form little groups or just use it as a place to study … ."
Decker said in addition to getting assignments checked and questions answered, students can get practice questions or practice tests.
"We don't keep a file of old classroom tests," she said. "It's not that kind of thing like at some universities, sororities and fraternities that have test files.
"It's not that that kind of practice test. It's just an additional tool for students to kind of pretend like they're taking a test and see if they're prepared."
Unlike the Math Lab or the various science labs on campus, students are not taught in the Accounting Lab, or even required to come. Decker said students can use the lab as a resource. It does not take the place of a class period.
"The lab is not a substitute for class. It's not a teaching lab," she said.
Decker said learning accounting is like learning a foreign language. She said the Accounting Lab is the best place on campus to help students get a firm foundation.
"We specifically help them in the accounting classes," she said. "The Math Lab is not equipped to help the accounting students. This is strictly for the accounting students."
Students who start falling behind should visit the lab, Decker said. Waiting until the last minute to learn everything isn't a good decision, she said, especially if students want a good grade.
Decker said it's impossible to learn the material right before an exam.
Around 3,300 visits were made to the lab during the fall 2014 semester. Decker said students should take advantage of the lab.
"I don't think you'll find an accounting lab at any of our transfer institutions," she said. "We frequently hear back … from students who've used our lab who've gone on to universities in the area, and they were surprised and disappointed saying, 'They don't have an Accounting Lab.'
"That's just part of the college's support to help students be successful," Decker said. "Accounting is one of the more challenging disciplines for some students, so we're just trying to help with that success."
For more information, visit www.occc.edu/business/accountinglab.html or call 405-682-7286.
To contact Lauren Daniel, email onlineeditor@occc.edu