Absolute reception April 28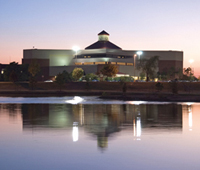 A reception to celebrate the publication of the 2011 Absolute will be held from noon to 1:30 p.m. on April 28 in CU 1 and 2.
There will be a jazz band, refreshments, and readings from the new edition.
"The Absolute is a literary anthology of community work," said English professor Marybeth McCauley.
"We take submissions from everywhere, but we have a lot of submissions from the campus and the surrounding community."
Jon Inglett, English professor, said the Absolute has been one of the "staples" of the college for years.
"It has a long tradition and history," he said. "And that tradition keeps evolving and growing to provide quality literary pieces to students and to the community."
McCauley said she's excited about the new edition.
"It's really, really good.
"We had a lot of good submissions and unfortunately we didn't have enough room to publish them all. We're looking forward to the reception on the 28th."
McCauley said although a theme often seems apparent in the Absolute, it isn't planned.
"It just happens that way when the student editors are choosing the pieces for publication. A sort of theme develops that we didn't start with, but it just kind of happens."
Inglett said although he hasn't determined exactly what that theme is this year he has a few ideas.
"I'm actually reading it over again to find that theme, that tone. But it could be 'overcoming.'
"Overcoming odds, overcoming difficult situations, overcoming loneliness — there are a lot of pieces about that in this edition."
For more information about the Absolute or to submit a piece for consideration into the publication, visit www.occc.edu/ah/absolute.html. To buy a copy, visit the college bookstore on the first floor of the Main Building. Copies are $5 each.