A Night of Jazz and Blues with Polly Gibbons
Tuesday evening will set the stage for a night of Jazz and Blues as Polly Gibbons performs with the Oklahoma City Jazz Orchestra in the Visual Arts Performing Arts Center,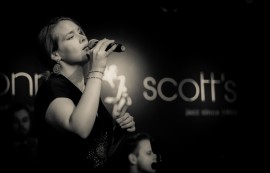 starting at 7:30 p.m.
Award winning singer and songwriter Polly Gibbons makes her second appearance at Oklahoma City Community College. Gibbons told the Pioneer that her "stay has been superb."
"I love it," she said. "This is my second time in Oklahoma and I really really like it. I like the vibe, I like the people, there are some great musicians lurking about."
Gibbons was contacted by former Cultural Programs Director Lemuel Bardeguez last year after meeting at a showcase event in Minneapolis. "He got me to come down here and they liked it," she said. "I did a master class and I'm back again, but this time with the big band."
Commenting on her wide range of tastes, Gibbons said she loves all kinds of music. "I love jazz, and I love soul, and I love blues so I kind of want to sing songs that have all that in them. We're going to have big wailing brass sections and then we're going to have just piano and voice."
Her style and performance stems from collaborations. She said brainstorming with Bardeguez and Oklahoma City Jazz Orchestra (OCJO) Interim Musical Director Brian Gorrell helped form the structure and shape of the show.
Alto Saxophonist Brian Gorrell said OCCC reached out and wanted OCJO to be a part of the Concert Series after contacting Gibbons as a guest artist, which led to the partnership.
Gorrell said, "For us, we wanted to collaborate and get out of our normal venue at the Petroleum Club in downtown Oklahoma City. Polly and James are both outstanding and were a total pleasure to work with. This was all put together tonight."
Gorrell said there were email exchanges and time put in to get the music prepared for the big band, but everything came together and perfected in a matter hours.
"That speaks to the level of the players and the group of professionalism of everybody involved to come together for one three hour rehearsal and put together a whole concert. Everybody that plays are professional but also true music lovers and that's a big part of what this group is about. We all do it because we love playing and love jazz music," he said.
Pianist and songwriter James Pearson has known Gibbons for sixteen years, performing and writing music in her past two albums. He co-wrote "Midnight Prayer" with Gibbons, a song that won first place in the Indie International Songwriting Competition in 2014. He said he's really liked his stay his second time around and has a good experience working with OCCC developing workshops and performing.
Pearson said, "We did another workshop today which was really cool as we met some students here. Last year there were about three hundred people in the audience or something like that. It was a bit of a shock, but this year we did a focus workshop with five or six people."
Pearson, who is also the artistic director for famous jazz venue Ronnie Scott's, mentioned how lucky the students were to have the amazing facilities OCCC offers. "Concert halls in London would be envious."
Polly Gibbons, James Pearson, and the Oklahoma City Jazz Orchestra perform at 7:30pm September 13 in OCCC's Visual Performing Arts Center.
You can get more information on Gibbons and her original work here and future Oklahoma City Jazz Orchestra performances and information can be found here