A Deaf Man is Shot, His Family Wants Justice
A deaf man was shot this month by Oklahoma City police.
Police officials said the officers shot the man because they feared he had a weapon and they didn't hear the shouts of witnesses who were trying to tell the officers the man was deaf.
Police reports show Magdiel Sanchez, 35, was a suspect in a hit and run automobile accident last Tuesday night. Officers were told the car involved in the accident could belong to Sanchez. When the officers approached Sanchez, police said, Sanchez was holding a pipe.
Police Captain Bo Matthews said, "the witnesses were yelling he can't hear you." Matthews said the officers didn't hear the shouts because they were giving commands.
Matthews told media representatives Sanchez had no criminal history as far as he knew. Matthew said Sanchez was 15 feet away from the officers when he was told to drop his weapon.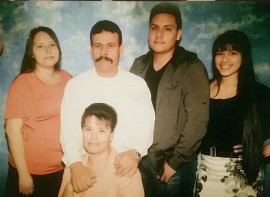 Maria Sanchez Garcia, Oklahoma City, said she wasn't sure why Sanchez was carrying the pipe around, but said he was not a threat.
"He was such a happy person, it kills me to think how scared he was with all the lights flashing at him," Garcia said. "He panicked, but he wasn't going to do anything, he was harmless."
Garcia said the victim was blind and was not in the car with his father when the accident happened.
"They did tase him but right after they shot him and it wasn't only once," Garcia said. "They saw he was holding a pole but I don't know why and they didn't have body cams. How are we to know if he was charging at them?"
Garcia said Sanchez was not good at communicating clearly, but he tried.
"Every time I would see him he would have a big smile," Garcia said. "He obviously couldn't talk well, but he tried, and signed what he could to [help] me understand."
Garcia said the last time she saw Sanchez alive was at her wedding last year, but for the most part he lived alone.
Camille Landry, a civil rights activist, said it's almost like the police decide some people's lives don't matter.
"What's ironic is I've sat face-to-face with the police chief, and he said he's working on a different approach to policing," she said.
However, Landry said there's an issue with Oklahoma City Police Chief, Bill Cittys', plans: the problem is not individual cops. "It's the whole system of policing and the criminal justice, law enforcement and the courts," she said. "The whole system is wrong."
Citty said Sanchez was carrying a metal pipe as a weapon. "It was taped, and it also had a rope at the end of it," he said. "A rope that would attach to your wrist to control it."
The pipe he said was a 'fairly large weapon," but he said he could not go into it prior to investigating the officer.
Landry said the killing of Sanchez was not justified.
"I walk with a metal pole," she said. "I need a cane, does that mean if I encounter a cop that he has the right to mow me down? How is a pole a threat to a full grown healthy man that has a taser, a baton, and a gun?"
Representatives of the Oklahoma branch of the American Civil Liberties Union said they were disturbed by the news.
"Merely failing to follow commands is an unacceptable defense for the use of lethal force. We have allowed a dangerous culture of 'us vs. them' to fester among our law enforcement professionals," wrote Allie Shinn, ACLU Oklahoma's Director of External Affairs, in a posting on the group's website. "This killing speaks directly to a warrior culture in which the very people police officers are sworn to protect come to be viewed as the enemy. This culture assumes that an officer's command, regardless of validity, is more important and more valuable than a human life."
Landry said there is no justice for people of color, or poor people when it comes to dealing with the police.
"There is no righteousness when Mr.Sanchez is laying on his back in the morgue while the cops who shot him get to be home on paid leave," she said.
In 2016 the newspaper, The Guardian reported that more than 30 people were killed by police in Oklahoma.  Landry said there have been fewer police officers killed by citizens since the early 2000s, so she's not sure why police are panicking.
"In fact the killing of police has dropped significantly in the last ten years," she said. "Cops aren't dying at the hands of citizens."
Records from the National Law Enforcement Officer Memorial Fund show that 135 police officers were shot in 2016.
"Magdiel Sanchez was shot at his own home, without having committed any crime," The ACLU of Oklahoma wrote, "and in front of neighbors who knew he was deaf trying to communicate to the police what they were about to do was wrong."
Captain Matthews said police don't choose their career to pull out their guns.
"We're always concerned, because there's no officer that wants to get hired to be a policeman so they can shoot their gun, or injure somebody," Matthews said.
He said Oklahoma City Police take the safety of citizens seriously.
The Oklahoma City Police Department is currently investigating the incident as a homicide. Witnesses say Sanchez was harmless.
"All I know is he deserved better," Garcia said.