5K Fun Run to benefit nursing, physical therapy students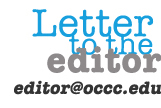 To the Editor:
Make plans to walk or run Saturday, Oct. 6, during the OCCC Life Saver 5K/1 mile Fun Run on the OCCC campus in an event to benefit the Nursing Student Association and Student Physical Therapist Assistant Organization.
Proceeds from the fourth annual event benefit student scholarships for the OCCC Nursing and Physical Therapy Assistant programs.
Registration for the 5K is $22 or $17 for those who present a valid OCCC student ID at packet pickup. The 1-mile run is $15 or $12 for students with a valid OCCC ID.
OCCC LifeSaver 5K or 1 mile Fun Run Schedule of Events
6:45 to 7:45 a.m.: packet pick-up and registration in lobby of the Health Professions Building. Registration will close promptly at 7:45 a.m.
7:55 a.m.: announcements and 1 mile Fun Run participants line-up
8 a.m.: 1 mile Fun Run starts
8:25 a.m.: 5K participants line-up
8:30 a.m.: 5K race starts
9:15 a.m.: awards ceremony
9:30 a.m.: prize drawings
Awards will be given to the top three finishers in each age group as well as the top overall male and female finisher.
For more information or to register for the Life Saver 5K/1 mile Fun Run, visit www.occc.edu/lifesaver/info or www.occc.edu/lifesaver/registration, or call Deborah Myers at 405-682-7138.
—Kim Holding