5-on-5 basketball begins this month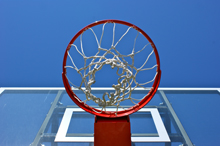 Intramural 5-on-5 basketball begins this week in the Wellness Center.
Intramurals are free to participate but students must first register for a team.
Students can register at http://imleagues.com by Feb. 10, said Eric Watson, Recreation and Sports Specialist.
Watson said intramural basketball is one of the most exciting activities to look forward to in the spring semester,.
"I'm very excited about this upcoming intramural season," he said.
"In intramurals, you get to put a team together to go compete versus your peers.
"This year, the season will be between Feb. 3 and Feb. 24."
Watson said last semester a basketball tournament was cancelled because of the lack of sign-ups.
He said this will not be the fate of the OCCC intramural 5-on-5 Basketball League.
"I expect a better turnout in the spring," Watson said.
So far, he said, the league is projected to have about five teams, yet to increase the number of those enrolled, sign up has been extended another week until Feb. 10.
Each team will be graded by their sportsmanship during and after the game.
Those not meeting the sportsmanship requirements will face consequences, Watson said.
At a Jan. 25 meeting, Watson outlined the rules of the league:
• Students must bring valid OCCC IDs to every game to be able to play.
• Each player must wear a jersey with a number.
• If a team is five minutes late, it will automatically forfeit.
• There will be no 5-on-4 games, he said, because each team has to have five players minimum.
• No fighting will be allowed. Any team member who fights during, after or before the game will be ejected.
• Referees also will not deal with rowdy players, he said. Any player or coach who degrades the referee may be called on a technical foul.
• There will be two 18-minute halves. For the last two minutes of the game the clock will run continuously.
Watson said the team that makes it through the gauntlet of games to win the championship will receive OCCC intramural T-shirts.
For more information about OCCC's Intramural programs, visit their website at www.occc.edu/RF/wellness, or call 405-682-1611, ext. 7310.
To contact Brandon Willis, email sportswriter@occc.edu.