40 Years After His Death, Elvis Remains King of Rock n' Roll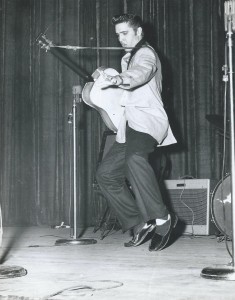 Late in the evening of August 15, 1977, Graceland was alive. The sounds of a lone piano filled the air. He'd played that song countless times in different concerts.
"In the twilight glow I see them, blue eyes cryin' in the rain," he sang, "When we kissed goodbye and parted, I knew we'd never meet again."  
The sound of Blue Eyes Crying in the Rain filled the mansion — it would be the last song ever sung by Elvis Presley.
Twenty-nine year old Peggy Pitts remembers.
Pitts worked as an executive secretary for Xerox at 50 Penn Place. She was getting ready for work when she heard the news on the radio.
"Police in Memphis, Tennessee say that Elvis Presley, the Mississippi boy whose country rock guitar and gyrating hips launched a new style of popular music, died this afternoon at Baptist hospital," the radio DJ at WCCO said. "Presley as 42 years old."
Pitts is now a grandmother. She and her husband, Larry, live in Oklahoma City. She still remembers everything about that day. "It was one of those times you never forget," she said. "We were in total shock. It was almost like we had lost a family member."
Hospital records show that Presley was declared dead at 3 p.m. By 4 p.m., Vernon Presley, Elvis' father, staggered from the steps of Graceland.
"My son is dead," he told reporters.
Days later the public would learn the cause of death: cardiac arrhythmia.
Most people believe Elvis had died from a drug overdose. However, the coroner report never indicated the death was drug related. Presley's father had the autopsy report sealed until 2027.
And while the cause of Elvis' death remains a mystery, after 40 years history has shown that even though death caught Elvis, The King was able to leave the world something that could never be taken away.
Elvis Presley gave us rock and roll.
Elvis and the birth of Rock and Roll
For African Americans, the genre was nothing new. Artists such as B.B. King, Fats Domino, and a young Chuck Berry dominated the early years of blues and rock. Their music was popular, but the nation was segregated.
Enter Elvis. Some critics would say Elvis appropriated African American music for his own gain.Oklahoma City Community College professor Danielle Herrington disagrees.
Herrington is a musical historian who believes that "rock didn't exist before Elvis."
"What became rock actually came from three styles of music," she said. "Growing up, he had different styles he was exposed to. What was the genius of Elvis was that he took the pieces and formed it into something that people hadn't heard before."
Herrington said Elvis was influenced by several styles of music: country western, the soulful gospel of the churches and rhythm and blues found on the streets of Memphis.  
In 1954, music changed. Presley continued to work on his dream of being a professional musician. Sam Phillips, the owner of Sun Studio Records in Memphis, took the performer under his wing. Phillips pushed Presley to tour the country. Near the end of 1954, Presley released his first hit single, "That's All Right."
Philips, Herrington said, had to be careful when he signed Elvis. The same year Elvis signed his first music contract, the Supreme Court ruled in the Brown v. Board of Education to desegregate schools.
"What's interesting about his influence on music is that it's tied so closely to what was hoping at the time," she said. "To break these barriers for people who had these racial tensions, you needed a gateway. Elvis was the breaking of the barrier."
When he started, Elvis earned the nickname "The Hillbilly Cat," due to his early influences of country western music and the ability to embody a cool nature.
But he wasn't loved by everyone.
Elvis' music was taboo and unconventional for majority of white audiences in the United States. Growing up in Memphis, he was raised around African Americans and the music that they created.
White audiences were listening to doo-wop groups and artists like Buddy Holly, Woody Guthrie, and Frank Sinatra. At first, radio stations wouldn't play rock and roll tracks because it was known as 'the music of the ghetto.'
The only disc jockey that was brave enough to go against the curve was Memphis DJ Dewey Phillips. Before the Ed Sullivan show, audiences assumed that Elvis was an African American.
Elvis the icon
Dr. Bob Blackburn is the Executive Director for the Oklahoma Historical Society; to Blackburn, Elvis was more than a musically talented Memphis singer.
"Elvis was the crossroad of a musical, cultural style," he said. "He bridged what was called hillbilly music, bluegrass stylings, and the roots with blues and jazz. In many ways, he was the carrier of the new fusion of music. It expressed this new sound that people were craving."
Blackburn said Oklahoma was the right area in the country for Elvis and his new music. Founded in 1907, Oklahoma was population was as diverse as those who participated in the 1889 land run.
"By the time Elvis had shown up on the scene, Oklahoma still had its first generation of people," Blackburn said. "We were living shoulder to shoulder with other walks of life so we were ripe for something new that we could all get behind."
Blackburn credited Elvis's success to being, "the right artist with the right skill set at the right time."
In the 1950's, Paul Ackerman was the Billboard editor for the New York Times. But after putting Presley to the top of the charts, Ackerman was met with a harsh lashback.
According to the New York Times, "On one day alone, Ackerman wrote, he received calls from two Nashville music executives demanding in the strongest possible terms that Billboard stop listing Elvis's records on the best-selling country chart because he played black music."
Ackerman said Elvis was simply seen as too low class, or perhaps just too no-class, because of his refusal to deny recognition to a segment of society that had been rendered invisible by the cultural mainstream."
Still, the white community wasn't the only place that Elvis was met with rejection.
African American musicians felt that their musical identity was being taken away. First, they had gospel hymns, then White people incorporated gospel into their culture.
Next, they had jazz and blues and white people people brought jazz and blues to a white audience.
Now, they had rock and roll. And once again, along comes a white man who presented rock and roll to the rest of the world — a world that had yet to acknowledge the importance of African American music.
When Elvis became more popular, audiences of all colors began to listen to this new genre.
Forward then back
As the 1950s progressed, Elvis became a star. In 1956, his contract for Sun Studio Records was up for renewal.
"Colonel" Tom Parker was the manager of RCA records in the 1950s. Parker cut a deal that would have Elvis finish out his contract.
Presley would sign with RCA in March of 1956. In the same month, RCA would produce his new single that would top the billboard charts.
The single was "Heartbreak Hotel."
And at that point, the boy from Memphis became the mogul of rock and roll.
It was here, Blackburn said, that Elvis benefited from the results of a cultural, economic and technological evolution. Radio stations became more inventive and musicians found larger audiences. Television followed.
Pitts, the secretary, remembers the first time she saw Elvis: September 9, 1956. Ed Sullivan brought the young Memphis star onto his television show.
Arguably, that was the night that Elvis became " The King" of rock and roll.
"My very first recollection of him was when I was a little girl and I remember watching The Ed Sullivan Show with my family and he came out to sing," Pitts said. "It was immediate love and my parents just couldn't get over those swiveling hips. It was very unconventional."
A nickname, "Elvis the Pelvis," quickly entered mainstream conversation.
"He was really our king of rock and roll and he was the first to make music an entertainment industry," she said.
During the late 1950s Elvis dominated music world with hits such as "Jailhouse Rock," "Hound Dog," "Blue Suede Shoes" and "Treat Me Nice."
Each song would be a billboard topper for weeks. The song that first captured Peggy's heart was "Love Me Tender" in 1956.
"It was so moving when he sang it," she said. "You could really feel it. It made you just want to hold someone really tight."
Elvis the film star
Elvis also took his chances in film. In 1956, he would break into movies with the film Love Me Tender.
Movies with a musical star was nothing new. Stars such as Bing Crosby and Frank Sinatra had been doing it for over two decades. Still, there was a difference between the rest of Hollywood's musician movie stars and Elvis: He didn't bank his popularity on being macho.
It was his sensitive side mixed with a sense of privileged loneliness that drove his fans wild.
In the summer of '56, the Memphis World reported that Elvis had, "cracked Memphis's segregation laws by attending the Memphis Fairgrounds during what is designated as a 'colored night."
Elvis' popularity rose throughout the 50's. Tensions grew around the world and the United States found itself engulfed in the Korean War. In March of 1958, Elvis was drafted into the Army.
He was stationed at Fort Hood, Texas, originally. Outside the military base, his parents moved into a small trailer to remain close to their son.
In August, Elvis was granted temporary leave to care for his sick mother. Gladys Presley had a case of acute hepatitis. Her son was by her side every day.
On August 8 Elvis left to return to Fort Hood. A few hours later, Gladys died.
After returned to military duty, Elvis requested to be stationed outside the country. He boarded a boat in New York and spent the next two years on active duty in Europe.
During his tour, he was promoted to Sergeant. He was officially discharged on March 5, 1960.
Elvis returned home and immersed himself into his work.
Fans greeted him as a long lost family member, but his presence had changed since his fans had last seen him.
Like many people, Peggy thought about the life that Elvis had lived after the service.
"He was always afraid he would die young because his mother had died young," she said.
During this time, Elvis worked on the films G.I. Blues and Blue Hawaiian. He also struggled to remain a father figure for his family. Presley had married Priscilla Beaulieu in '67 and had their daughter Lisa Marie, in '68. However, his music wasn't selling the way that it had in the 1950's.
The critics, it seems, had grown harsher.
Music had changed. The Beatles, The Rolling Stones and the Kinks, invaded American and Elvis was unprepared. He'd assumed that his declining popularity would bounce back after he came returned from the military.
The King of Rock and Roll relocated his kingdom from Graceland to the desert east of California.
Thus began the age of Viva Las Vegas.
The King in Vegas
Elvis's popularity was down. The late 60s and early 70s saw his fan base dwindle and, on a personal level, a tough divorce from his wife, Priscilla.
At the time, Presley's depression had come into full focus. His workout regimen had stopped. The world saw an overweight, pain-pill addicted rockstar clinging to the past.  
But the fault doesn't lie fully in the hands of Elvis. It also rests in the hand of the public.
Elvis had slipped one too many times and his public left him in the dust of the past.
There, he had to fend for himself.
Elvis had a choice to make: Fade away or a comeback yet again.
In the early 1970s, Elvis made his way back to the limelight. He would tour throughout the United States, but focused on the southern half.
One of Elvis's favorite stops was Oklahoma City. He stayed at the Lincoln Plaza Hotel, now closed to the public. Elvis said he chose the hotel because, "it felt like home."
"The South," he said, "will always be my home and what's better than home?"
Today, the Lincoln Plaza Hotel still stands, abandoned — a silent of the music royalty who once stayed there
In March of 1975, Elvis would win his third and final Grammy for the gospel song, "How Great Thou Art."
But even as earned another Grammy, his health became more of an issue. The performances and daily functions were driven by the supply of pain medication he had self-prescribed for the past decade.
The last tour
On early November of 1976, Elvis meet his girlfriend Ginger Alden. Alden, historians say, was the last woman Elvis loved.
He'd planned yet another comeback tour, this one would be called The Comeback '78.
He never made it.
On August 16, 1977 Presley returned to Graceland from a late night visit to the dentist. The King was complaining about pain. Just before six in the morning, he made his way to the piano.
He played alone that morning.
"Now my hair has turned to silver, all my life I've loved in vain. I can see her star in heaven, blue eyes crying in the rain."
At 7 a.m., Elvis said wanted to rest. He had a flight to catch to Portland, Maine for a concert later that day. Presley and Alden made their way back to their bedroom.
Several hours later, at 1 p.m., the King was unresponsive on the bathroom floor. By 3 p.m. that day, the world would know that Elvis Presley, the King of Rock n Roll was dead.
Two days later, the funeral took place at the Presley family crypt in Memphis. Two months after the funeral, Elvis' father would move the graves of his wife and son to Graceland.
Farewell to the King
According to the Guardian newspaper, an estimated 100,000 people attended Elvis's funeral. The King may have been dead, yet people across the country paid respect to the man that helped invent modern rock and roll.
In the Rolling Stone book, History of Rock, the entry about Elvis notes that many people believed Elvis' music had died much earlier than the man.
"When, on August 16, 1977, the story broke that the King was dead, many — including John Lennon — felt as if they'd lost Elvis years earlier," the book noted.
For Peggy Pitts Elvis will always have a special place in her heart.
And yes, she believes Elvis is still relevant — even today.
"That's like asking why is rock and roll still relevant," she said. "Elvis will always be a part of our lives. There's no one alive who is over 50 years old who doesn't feel a personal connection to his music."
Elvis' music remains a great equalizer. Songs like Heartbreak Hotel and Blue Suede Shoes tear down walls of oppression and continue to influence future generations.
Lindsay Moore, 26, is a mother. She remembers being six years old and seeing a man in a black leather jacket dancing in black and white.
"My first experience with Elvis was watching Jailhouse Rock with my Nana," she said. "His music was more than just a good rhythm and a good looking man. I fell in love with him for the memories he gave me with my Nana and the morals he expressed."
Throughout her teens, Moore said, she would receive an Elvis-inspired gift every Christmas. Her fascination with Elvis pushed her to purchase every album he ever produced.
"Elvis had something that's always spoke to me in a way that no one else did," Moore said. "He loved his Mama more than he could ever expressed."
Presley's 1969 hit song In the Ghetto is something that, even today, moves Moore to tears.
"It hits right in the feels because it's just such a raw song," she said. "There's so much to show how relevant it is even now. It's just so iconic."
Lindsay says that she believes that the influence of Elvis is not something to be tossed into one decade or another. Children are being introduced to the music of the King by animated movies like Disney's Lilo and Stitch.
"Kids are singing these songs by Elvis and they don't even have a clue as to who he was," she said. "I've walked in my house to catch Isabella dancing to Hound Dog from the movie and it just makes me smile so much."
For millions, Elvis Presley, the King, will reign forever as rock and roll royalty.
Pitts has witnessed many changes in the world of music. She saw Michael Jackson labeled as the King of Pop. She saw the age of rock morph and change into what it is today.
Yet she always goes back to Elvis.
"There hasn't been anyone quite like him since," she said. "As it turns out, he was a troubled man with an amazing talent. When I die, I'm going to find Elvis and tell him "thank you" and maybe ask him to sing me a song."