3DS soars, 'Street Fighter' sinks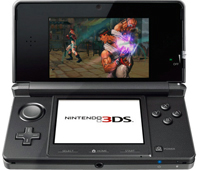 I recently played "Super Street Fighter IV" on the new Nintendo 3DS system, and I noticed several things about the experience.
First and foremost, the 3-D was astounding, though if you move the system from side to side, it has the effect of one of those holographic stickers.
The second thing I noticed was that "Super Street Fighter IV" can be insanely difficult or ridiculously easy depending on the difficulty and the setting.
You can either have your good combos at your fingertips or have to manually input them.
It's unfortunate that I'm a purist when it comes to "Street Fighter" games, because I suck at them.
For this new game, I suggest you only try it if you're good at fighting games. It's that unforgiving.
As for the 3DS, the graphics are incredible.
The characters look as realistic as over-muscled and extremely powerful video game characters can be.
Overall, the 3DS seems to be worth the high bill of roughly $250.
You can still get all the nifty apps from the Nintendo store that were created for the previous DSi model.
Fair warning though: Do not use cheat devices on the 3DS.
The console will keep track of it, and Nintendo will cut the system off from the Nintendo network, completely screwing over updates in the future.
It's just not worth it.
Super Street Fighter IV: C
Nintendo 3DS: A