24 Hours in Oklahoma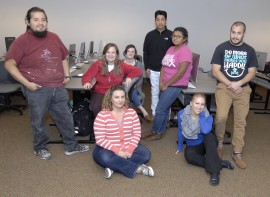 There were nine of them. Nine student photographers given a single task — record a 24 hour moment in Oklahoma. They could go anywhere. They could shoot whatever they wanted to shoot.
Each student was giving a specific time they had to operate in but the photos, well those were left to the students.
This gallery represents their work. Nine students, ten photos from each student.
The students included, from left, Leonardo Villaseca-Cruz, Tina Stephens (seated), Sara Edwards (seated) Caitlin Sanford (seated at table) Francisco Monsivais, Patricia Gutierrez, Nicholas Aufiero and, (back row) Sara Wynn. Click on the photo below to enter the gallery.