$10k loan may cost almost twice that in repayment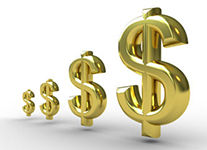 On average, two-year public college students accrue $9,962 in federal student loan debt, according to the U.S. Department of Education.
Those loans carry a 3.9 percent interest rate, meaning the total cost of repaying the loan can be anywhere from $12,047 to $16,161.
Angela Leal, Financial Aid assistant director, said the average balance can take 10 years to pay off for those only able to make the minimum monthly payment. Roughly one-third of OCCC students have student loans, she said.
Leal said students need to be wise about borrowing money that has to be repaid.
"If the student chooses the loan or has to take the loan, I recommend just taking the amount that they need," she said.
Students who have taken out loans have some options when it comes to repayment, Leal said.
Leal recommended students begin making payments on loans as early as they can.
She said although lenders don't expect payments while someone is still attending college, it's wise to start paying off the loan as soon as possible.
"If you're ready to start paying off your loan, you can contact your lender and you can start making payments even if you're in school and there's no penalty," she said.
"… Unsubsidized loans, [are] going to be collecting interest as [students are] going through school. So, they can always pay the interest as they go along and, in the long run, it will save them some money."
A graduated repayment plan also is offered, with a monthly payment that grows from the initial minimum $56 to minimum payments of $168 in final months, she said.
This is another 10-year repayment plan according to studentloans.gov. Individuals making minimum payments toward this plan will pay more in interest over time. The total, 10-year cost of repaying a $9,962 balance would then be $12,562.
There are various other plans for repaying federal student loans wherein minimum monthly payments are based upon an individual's income. Those with higher incomes under these plans are required to make a larger minimum monthly payment, which can result in loans being paid down faster, thus accruing less interest.
Leal said even for those living on a sound income, waiting to begin payments on a loan could be a pitfall.
She said there are income-based repayment plans but paying down loans one minimum payment at a time is a long process even for those who make a substantial amount of money.
For instance, someone with a gross annual income of $100,000 on an income-contingent repayment plan would be required to make minimum monthly payments of $108 for 105 months, paying a total of $11,792 for a $9,962 federal loan.
Someone who earns $39,749 annually (the median income in Oklahoma according to the U.S. Justice Department), could be paying off their loans more than three years longer than those making minimum payments on the standard repayment plan. Minimum payments would be $75 to $85 monthly but the total cost of repaying the same loan would be $12,811.
A minimum wage worker in Oklahoma, working 40 hours each week for 52 weeks, is capable of earning $15,080 in a year. Making just the minimum payments on the average federal loan of $9,962 would take 25 years under the income-based repayment plan. Their cost at the end of the 25-year span would be $16,131.
For those who earn less than $75,000 annually, there is no way to pay the average federal loan (for two-year public college students) of $9,962 in less than 10 years. The only way to pay less than $12,000 for that loan is to pay more than the minimum monthly payment
The figures were found using the U.S. Department of Education's Repayment Estimator at https://studentloans.gov. The repayment plans apply specifically to federal student loans and may not be available for other types of loans.
Leal said students should consider alternate ways to pay tuition.
"Filling out the Free Application for Federal Student Aid (FAFSA) qualifies students for grants and loans," she said.
"A lot of students do qualify for other types of financial aid like Pell grants and state grants that go along with the FAFSA. [Many] of students are able to pay for school with just the Pell grants."
Leal said some students qualify for tuition waivers.
"My suggestion is to seek out other possibilities — scholarships or tuition waivers, other forms of aid before taking a loan," she said.
For those who have committed themselves to student loans, Leal said, OCCC's financial aid office can be a valuable resource.
She advised taking advantage of free online resources as well.
"Students can find information about their loan debt through NSLDS.gov," she said. "It's a federal website that we use all the time.
"Students can go and see their current loan debt from all schools that they've attended."
For more information, visit the Financial Aid office, email financialaid@occc.edu or call 405-682-7525.
To contact Jorge Krzyzaniak, email seniorwriter@occc.edu
Related Article: Profs offer advice for getting through college with little debt