Zumbathon raises awareness in fight against obesity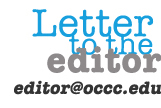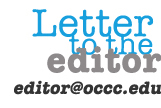 To the editor:
The OCCC Student Physical Therapist Assistants celebrated National Physical Therapy Month by hosting a Zumba event, the Zumbathon, on Oct. 8.
The student PTAs made it a focus to market Zumba, a cardio workout to Latin rhythms or "exercise in disguise," to the community.
They also supported the American Physical Therapy Association's mission by raising awareness in the fight against obesity.
This event was the first ever in Oklahoma to combine all forms of the Zumba workout in one convenient location.
Zumba programs utilize certified instructors to engage in dance moves and fitness variations and above all encourage everyone to have fun while exercising.
I would like to give a huge thank you to OCCC for allowing us to use the facilities, the Zumba community for the awesome work-out, the Student Physical Therapist Assistant classes of 2011 and 2012 for all of their hard work and vision, and DJ Keilo for spinning the tunes.
The different types of specialty Zumba are : Aqua Zumba, an exercise performed in chest-high water in the pool; Zumba Toning, which uses light weights of 1 to 3 pounds along with the fitness movements, and Zumbatomic, which includes activities geared towards children ages 4 to 12 with dance moves and music appropriate for those ages, along with a traditional Zumba workout, were all included (in the Zumbathon.)
All of the above classes were presented in a concurrent format and a "come and go" atmosphere to allow participants to try multiple formats and enjoy their exercise.
For this inaugural Zumbathon, there were 75 participants, 29 volunteer Zumba instructors and 30 student PTA volunteers.
The money raised will support the student physical therapist assistant program.
A portion was also donated to support breast cancer research, as the Susan G. Komen Race for the Cure was the very next day in Oklahoma City.
Based on the feedback from the participants, instructors, and volunteers, it was a huge success and a fun time.
We hope to make it an annual event, so come and join us next year.
I am providing links for more information: www.apta.com, www.zumba.com, and www.occc.edu/pta.