You Know massacres Spartans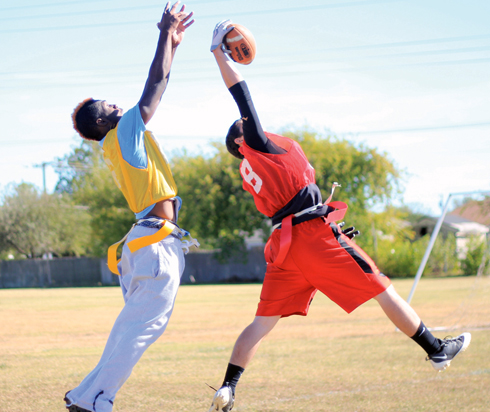 Yasmin Shirali/Pioneer
Team You Know defender Collin Gentry picks off a pass intended for Spartans receiver Jamaal Surrell. Despite Surrell's effort, the Spartans were handed a lopsided defeat to the tune of 54-12.
In the final week of the intramural flag football regular season, the undefeated team You Know took the field against the winless Spartans.
Supremacy was seized as You Know went on to win 54-12.
The 0-5 Spartans came in to the game short-handed, borrowing players from other teams to avoid a forfeit.
Brendon Curry was the team's sole original member who showed up to the OCCC football field.
"I felt left out," Curry said. "My team didn't support me today. They left me hanging out there on the field."
Curry would need all the help he could get as Collin Gentry and You Know scored at will.
Gentry led his team to five consecutive scoring drives to open up the game 32-0 over the hapless Spartans.
An integral part to keeping the Spartans off the scoreboard was team captain Josh Vanover, who had three picks in the first half alone.
A fourth interception would come, but would be taken back after a penalty on the play.
"They kept throwing at me in the first half so I just kept picking it off," Vanover said. "I could have had a couple more, too."
After a quarterback change and desperate for a score before the half, the Spartans turned to playmaker Jamaal Surrell for a spark.
Substitute quarterback Curry found Surrell for an awe-inspiring catch and run to give the Spartans their first points of the game, making it 32-6.
The second half would prove to be no different as You Know came out firing on all cylinders yet again.
Vanover found wide receiver Cody Stallings in the back of the end zone on the opening possession of the half.
The Spartans failed to move the ball with any fluidity, as interceptions were aplenty.
In response, the lifeless Spartans decided to turn to the lone bright spot in Surrell toward the end of the game.
Surrell yet again made a play worthy of being on SportsCenter's Top 10 plays of the week.
Curry lofted the ball up and Surrell snatched it out of the air, stealing a would-be interception, and taking it to the house for a 62-yard touchdown.
Despite a lopsided loss, Surrell remains positive.
"I'm just out here to help a team in need," Surrell said.
Unfortunately for the Spartans, the game was well out of hand as You Know kept scoring at will, making the final tally 54-12.
You Know is now looking forward to the playoffs beginning next week.
"We're gearing up for the playoffs now," Gentry said. "We just have to stay humble and continue to win."
You Know will face The Crew, who they have already beaten once this year.