Month dedicated to women's history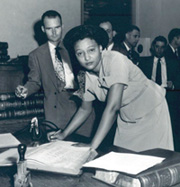 With March being Women's History Month, it allows women to celebrate the achievements and advances that have been made.
We have compiled a short list of just some of the women from Oklahoma who have made an impact not only in the state, but on the nation and the world.
For more information on achievements made by all women, not just Oklahoma women, or to get involved visit your local library or go online to www.womenshistorymonth.gov.
To contact Mary McAtee, email staffwriter2@occc.edu.
Women's History Month
March is Women's History Month. The Library of Congress, National Archives and Records Administration, National Endowment for the Humanities, National Gallery of Art, National Park Service, Smithsonian Institution and U.S. Holocaust Memorial Museum join in paying tribute to the generations of women whose commitment to nature and the planet have proved invaluable to society.
Women's History Month had its origins as a national celebration in 1981 when Congress passed a bill which authorized and requested the president to proclaim the week beginning March 7, 1982 as "Women's History Week."
Throughout the next five years, Congress continued to pass joint resolutions designating a week in March as "Women's History Week."
In 1987 after being petitioned by the National Women's History Project, Congress passed another piece of legislation which designated the month of March 1987 as "Women's History Month."
Between 1988 and 1994, Congress passed additional resolutions requesting and authorizing the President to proclaim March of each year as Women's History Month.
Since 1995, Presidents Clinton, Bush and Obama have issued a series of annual proclamations designating the month of March as "Women's History Month."